One Direction top 2013 global album chart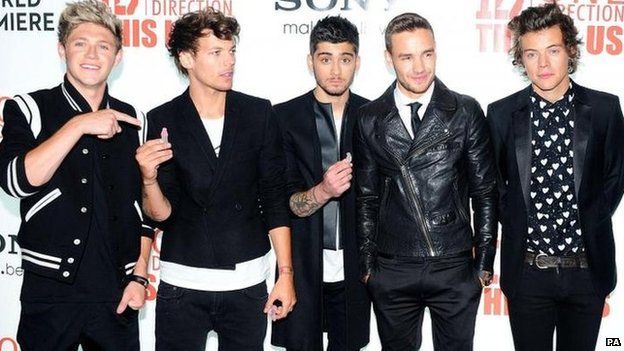 One Direction's Midnight Memories was 2013's biggest-selling album around the world, according to figures from the British Phonographic Institute (BPI).
The album clocked up global sales of four million, beating US rapper Eminem into second place.
UK acts have now held the top spot for six of the last seven years, with Adele the best-seller in both 2011 and 2012.
British acts accounted for one in eight albums sold - excluding compilations - around the world last year.
"For home-grown talent to have recorded the world's biggest-selling album six out of the last seven years is a phenomenal achievement that says a great deal about the popularity of British music around the world," BPI spokesman Gennaro Castaldo said.
"Aside from the obvious contribution to British exports, this success underlines the vital role that our music and artists play in promoting the appeal of British culture around the world."
UK acts took a 13% share of global sales - excluding those for compilations - compared with 13.3% in 2012, the BPI reported.
Around a quarter of the top 40 best-selling albums were by British musicians, including Robbie Williams, David Bowie and Mumford and Sons.
Williams' Swings Both Ways was the 18th biggest seller around the world, while Bowie's comeback album The Next Day was at number 35.
Adele's 21 also continues to be one of the world's most popular albums, three years after its release.
Midnight Memories, One Direction's third album, was also the best-selling record of 2013 in the UK, despite only having been released in November.
In the UK, home-grown artists accounted for 51.9% of all album sales in 2013, exactly the same share as the previous year, with the US on 33.8%.
Related Internet Links
The BBC is not responsible for the content of external sites.