'Lost' Dr Seuss stories to be published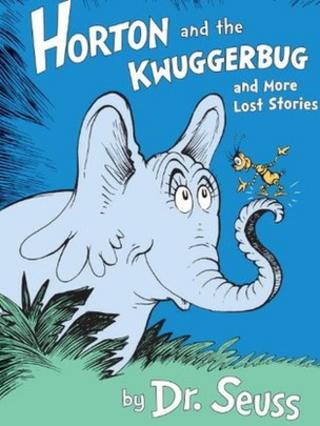 A collection of stories by children's author Dr Seuss are to be published 60 years after last being seen.
The four obscure stories include early incarnations of favourites The Grinch and Horton, which will come out in a picture book for the first time.
They were originally printed in a 1950s US magazine, which was often discarded when the next monthly issue came out.
US writer Seuss wrote a series of well-loved books including The Cat in the Hat and Green Eggs and Ham.
The author - whose real name was Theodor Seuss Geisel - created a string of imaginative characters and wrote tales in an infectious rhyming style.
He died in 1991 at the age of 87 after publishing 43 titles during his career.
The new compilation of four stories, called Horton and the Kwuggerbug and More Lost Stories, shows the helpful, friendly elephant of the title duped into carrying an insect for the promise of a tasty beezlenut tree - which turns out to be out of reach.
The Grinch, universally known for stealing Christmas, is equally devious in his 1955 appearance, convincing a creature called the hoobub to buy a piece of green string that he says is more valuable than the sun.
Seuss publishers Random House Books for Young Readers, who are launching the new book in the UK and US on 9 September, said the revived stories would have "a colour palette enhanced beyond that of the magazines in which the stories originally appeared".
The book will enable fans to "learn more about Horton's integrity and a devious Grinch," they added.
It follows a collection of similarly "lost" Dr Seuss stories which was published in 2011.
Seuss expert Charles D Cohen, who writes an introduction to the new book, called the new stories "fresh encounters with old friends and familiar places".
He added that their original publication in Redbook Magazine in the 1950s had led them to be "largely forgotten".
Dr Seuss's work has been successfully transferred to the big screen, with his friendly elephant appearing in Horton Hears a Who! and the grumpy Grinch being brought to life by Hollywood star Jim Carrey.