Mike Smith: The ups and downs of a high-flying career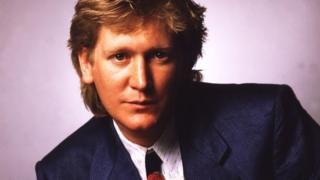 Mike Smith, who has died at the age of 59 after heart surgery, was one of the most popular British broadcasters of the 1980s, who overcame a serious flying accident to reinvent himself as a successful aerial cameraman.
With infectious enthusiasm, an endearing irreverence and a fearless streak, Mike Smith was a polished and ambitious presenter who became a household name in the mid-1980s.
His career highlights included being the fifth host of the BBC Radio 1 Breakfast Show, one of the early presenters of BBC One's Breakfast Time and a co-presenter of the BBC's Live Aid coverage. He even once applied to become controller of BBC One.
When Smith took over the Radio 1 breakfast show in 1986, it was the most high-profile job on the British airwaves and Radio 1 was the nation's firm favourite, attracting around 18 million listeners per week.
Four years after he joined the station from London commercial rival Capital, Smith inherited the breakfast slot from Mike Read.
Within 12 months, Smith - known to fans as Smitty - was named DJ of the year at the Sony Radio Awards and radio personality of the year at the Variety Club Awards.
He was also a familiar face on television, appearing alongside his Radio 1 colleague Noel Edmonds on his Late, Late Breakfast Show, hosting the weekly BBC One entertainment programme Show Business and presenting Breakfast Time for a spell.
Smith's career prospects had not looked so promising when he dropped out of his A-levels in Chelmsford, Essex, and could not get a job in the motor industry as his father had hoped.
But the young Smith had started running school discos and then began broadcasting on hospital radio.
After joining Capital, the presenter met his future wife Sarah Greene in 1981 while she was co-hosting Blue Peter, and they became the star couple of British broadcasting for a time.
However, they turned down the chance to stand in for Richard Madeley and Judy Finnegan on ITV's This Morning and Smith said they declined the chance to host Anne Diamond and Nick Owen's daytime show "before it was Anne And Nick".
"We don't want to be seen discussing each other's personal habits on air," Smith said.
Despite his success, Smith knew he was not to everyone's taste. "I've been described as bland and boring and as the man who put the fat into fatuous," he admitted in 1994.
As well as broadcasting, Smith was a keen motor racer and a qualified helicopter pilot.
Shortly after leaving Radio 1 in 1988, he and Greene were seriously injured when their helicopter crashed in Gloucestershire.
Greene broke both legs and an arm and Smith broke his back and one ankle in six places. Smith proposed to Greene just weeks later, and they married the following year.
The crash also put his career ambitions into perspective. "My attitude before the accident was that whatever I was doing in television was the most important thing that had happened to me," he said in 1994.
"After the accident, I realised that television is not the greatest thing in the world."
He did return to presenting, including hosting TV quiz show That's Showbusiness and the car series Dreamwheels.
But in the 1990s, his career was often dogged by controversy.
He lodged an official complaint when Keith Chegwin turned up at his house unannounced for a surprise interview for Channel 4's The Big Breakfast, and publicly criticised Esther Rantzen, his co-host on BBC One's Hearts of Gold.
Meanwhile, mock BBC documentary Ghostwatch was censured after some viewers were fooled into thinking it was real.
Smith was also beginning to fall out of favour with TV executives. He was astute enough to know which way the wind was blowing, and decided on a major change of career direction.
"I got to 45 and some of the shows I was being offered as a presenter I didn't want to do," he said.
"I'd never been middle-aged before and I thought 'What's part two going to be like?' I thought, 'It could be what I wanted it to be.'"
So, despite his earlier crash, in 2003 he stepped away from the spotlight and set up a company shooting aerial footage from helicopters.
FlyingTV covered news stories for the BBC and ITN, filmed events including the London 2012 Olympic Games and the Grand National and shot footage for TV shows like Top Gear and Spooks.
At times, Smith flew the helicopters himself. At others, he operated the camera or provided commentary for TV news reports.
The success of this second chapter in his career proved that Smith could be as canny an operator behind the scenes as he was on the air.