Michael Johns, American Idol contestant, dies at 35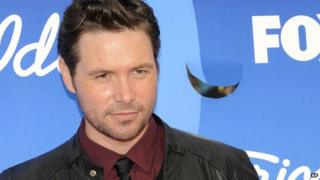 American Idol season seven finalist Michael Johns has died at the age of 35.
US TV network Fox and Johns' family released statements confirming the news, with Fox describing Johns as "an incredible talent".
No cause of death was given, however Hollywood Reporter said it was due to a blood clot in his ankle.
Former American Idol judge Simon Cowell paid tribute on Twitter, calling him "a truly great guy".
According to TMZ, the Australian-born singer saw a doctor on Thursday complaining of pain and swelling in his leg after twisting his ankle and was later sent home.
He was found unresponsive at a friend's apartment on Friday and was pronounced dead at the scene.
"Michael Johns was an incredible talent and we are deeply saddened by the news of his passing. He was a part of our American Idol family and he will be truly missed," Fox said.
'Completely gutted'
Johns' family added it was "devastated by the passing of our beloved Michael, a wonderful husband, son, brother, uncle, and friend".
Described by Cowell as a "white soul singer", Johns created a stir during his time on the show in 2008 because he had been signed to a major label, Maverick, prior to auditioning.
After Idol he released an album, Hold Back My Heart, in 2009 and participated in a lot of charity work with former executive producer Nigel Lythgoe.
"He was a great talent and dear friend. My boys and I were devastated to hear the news," Lythgoe said.
Actress Rita Wilson, who performed with Johns at a Muhammad Ali fundraiser, also tweeted: "I'm so shocked and sad to hear my friend @michael_johns has passed away. A lovely man, a great voice, a beautiful wife, Stacy. Rest in peace."
Paula Abdul, who also served as a judge on the show when Johns competed, said: "I'm so torn up over the news about Michael Johns.
"Michael was not just an amazing talent, he was an incredible human being who was so full of life that the notion of it stopping is incomprehensible to me. His echo will live on forever."
David Cook, who went on to win the seventh season of American Idol added: "To say I'm shocked and saddened is a gross understatement. I'm completely gutted for his family, including his wife, Stacey.
"I hope they can find at least some small amount of solace in the fact that he made mine and many others' lives so much better by having known him."