Jake Chapman: Taking children to galleries is a 'waste of time'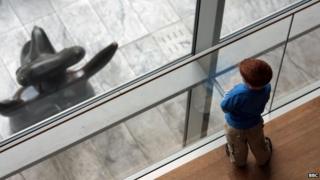 British artist Jake Chapman has said taking children to art galleries is a "total waste of time".
He told The Independent parents were "arrogant" for thinking their children could understand artists like Mark Rothko or Jackson Pollock.
Standing a child in front of a Pollock work is "like saying... it's as moronic as a child", said Chapman, adding "children are not human yet".
Chapman and his brother Dinos were nominated for the Turner Prize in 2003.
The pair are known for explicit, and often profane, three-dimensional works.
But Chapman was not concerned about children seeing 18-rated material.
Instead, he said that comparing the "simplicity" of Matisse's work to a child's painting was "ridiculous".
"There is no connection... Anyone who says there is, is less than a village idiot."
Referring to Pablo Picasso's statement that it took him "four years to paint like Raphael, but a lifetime to paint like a child", Chapman added: "It's like saying a child will understand a Cubist painting because a Cubist painting is childlike... There's no connection."
But his views have been challenged by other figures in the art world.
"If you can walk and you can look, you can get something from a work of art," Stephen Deucher, director of The Art Fund, told BBC Radio 4's Today programme,.
"Can a child appreciate a work of art deeply? Yes, of course they can," he added. "Can they understand it...as well as their parents? Probably not."
Turner prize-winner Anthony Gormley, whose works include Angel of the North, described Chapman as an "agent provocateur".
"I don't think art is to be understood - it's to be experienced," he told The Times.
"Art is not to be decoded. It is to be felt. Feeling comes before understanding."
A National Gallery spokesman said "children benefit a great deal from visiting art galleries and museums".
"It widens their horizons [and] can develop inquisitiveness and curiosity about the world."
Analysis: Will Gompertz, BBC Arts Editor
One of the defining characteristics of the YBAs - a group of now 40-something conceptual British artists (which includes the Chapman Bros) that emerged in the late 80s and early 90s - was their ability to manipulate the media to get attention for their work.
Tracey Emin and Damien Hirst are still the masters, but the Chapman Brothers are not far behind. The formula is simple: When you have an exhibition to promote, say something mildly inflammatory to the press, and watch the column inches (particularly in August) and ticket sales soar.
Jake Chapman's comment about kids and paintings is a beautifully crafted example of the art. It has generated loads of attention, reinforced the brothers' bad-boy brand, and alerted an "outraged" middle England to the Chapmans' new show. Job done.