Actors John Hurt and Rory Kinnear to appear at Proms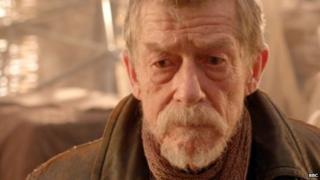 British actors John Hurt and Rory Kinnear are to perform at the BBC Proms this week.
Hurt will narrate composer William Walton's Henry V: A Shakespeare Scenario in a performance led by conductor, Sir Neville Marriner.
Kinnear will perform a spoken role in Stravinsky's opera-oratorio, Oedipus rex.
He is best known for his roles in the Bond films, Quantum of Solace and Skyfall.
Hurt, whose recent film appearances include Tinker, Tailor, Soldier, Spy, and the Harry Potter films, told the Guardian: "I was a little reticent to begin with because I'm not really a Shakespearean actor. Everyone thinks I am but I've done very little classical work as a professional.
"It's a very daunting text and the nearer it gets, well it is absolutely terrifying."
Walton's score was written in 1944 for Laurence Olivier's film adaptation of Shakespeare's play.
The piece weaves excerpts from the Shakespeare - including the Agincourt speech - into Walton's music.
Hurt will join the Academy of St Martin in the Fields, the London Philharmonic Choir, and Trinity Boys Choir for the performance on 10 August.
Kinnear, who this year won an Olivier Award for his role as Iago in the National Theatre production of Othello, will take to the stage at the Royal Albert Hall for his performance on 7 August.
He will be guided through Stravinsky's retelling of the Oedipus story by the BBC Symphony Orchestra under the baton of conductor, Sakari Oramo.
Kinnear's appearance at the Proms comes ahead of the release later this year of the film, The Imitation Game, in which he stars alongside Benedict Cumberbatch and Keira Knightley.
Rory Kinnear appears in Stravinsky's Oedipus rex in Prom 28 at the Royal Albert Hall on 7 August.
John Hurt performs in Walton's Henry V: A Shakespeare Scenario in Prom 32 at the same venue on 10 August.