Opera star Christiane Karg carries on performance with dislocated knee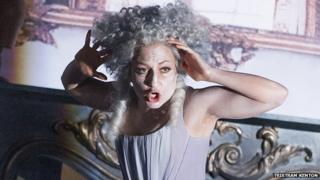 Opera singer Christiane Karg soldiered on until the end of a performance at Glyndebourne despite dislocating her knee during the show.
The German star fell on stage during the first act and received swift medical treatment.
But she declined painkillers and performed the rest of her role in Mozart's La Finta Giardiniera seated.
A spokeswoman for the opera festival said Karg received "a wonderful reception" when the performance ended.
They were "delighted that she had been able to continue her role", she added.
It was confirmed that Karg suffered a fall during Sunday's performance, causing it to be temporarily halted.
The 33-year-old soprano was treated by a doctor in the audience at the venue near Lewes, East Sussex, who was able to relocate her displaced left knee.
Glyndebourne also said that Karg was "keen to continue the performance".
Another audience member told the Daily Mail that it was "shocking" to see the singer fall and "it was obvious that it was a serious tumble".
"Everyone initially thought there was no way she could carry on. She was extremely brave".
Karg has confirmed that she will appear as Sandrina in the remaining five performances of the Glyndebourne production, ending on 21 August.
The first outing following the singer's injury will take place on Thursday.
The singer's publicist said that the singer was awaiting the results of a scan, and although her performances will go ahead, "her actions will be modified as she has to be careful on her knee".