Guardians of the Galaxy beats Planet of the Apes at UK box office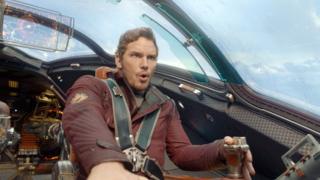 Superhero blockbuster Guardians of the Galaxy has ended Dawn of the Planet of the Apes' two-week spell at the top of the UK and Ireland box office chart.
The latest film from the Marvel stable took £6.36m between Thursday and Sunday to take pole position on the countdown.
Guardians opened better than Marvel's recent Captain America sequel, which took £6.03m in its first five days on release at the end of March.
Yet it did not top the openings posted by 2014's X-Men and Spider-Man films.
X-Men: Days of Future Past took £9.14m when it made its UK and Ireland debut in May, slightly more than the £9.01m The Amazing Spider-Man 2 took when it opened in April.
Nor did Guardians of the Galaxy make more than the £8.7m Dawn of the Planet of the Apes made when it opened in the UK and Ireland two weeks ago.
Yet its £6.36m takings still represent a strong showing for a relatively untested property, a superhero team whose members include a walking tree and a talking raccoon.
Despite falling one place to two, the latest Planet of the Apes made almost £3m between Friday and Sunday to take its overall takings in the UK and Ireland up to £23.4m.
The weekend's other new releases could only dream of such figures, with animated feature The Nut Job (at six) and dance sequel Step Up All In (at nine) making £666,966 and £391,129 respectively.
The performances of those two titles, which played on 405 and 369 sites respectively, were set in sharp relief by the latest venture from the Secret Cinema company, which claimed seventh place in this week's chart after recording three-day takings of £538,159 from a single site.
The premium-priced screenings of 1985 favourite Back to the Future followed the cancellation of the first week of performances.
Overall, the immersive themed "experience" has made £720,479 since first welcoming punters at the Olympic Park in east London last Thursday.
UK and Ireland box office chart
1. Guardians of the Galaxy - £6.36m
2. Dawn of the Planet of the Apes - £2.96m
3. How to Train Your Dragon 2 - £1.09m
4. Hercules - £0.90m
5. The Purge: Anarchy - £0.81m
Source: Rentrak