Frozen director Jennifer Lee 'to adapt A Wrinkle in Time'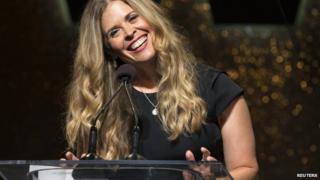 Frozen writer and co-director Jennifer Lee is to adapt children's novel A Wrinkle in Time as her next project for Disney, according to Variety.
The 1962 Madeleine L'Engle book centres on a teenage girl who travels through time and strange worlds to find her missing scientist father.
It will be the third film Lee has written for Disney, after Frozen and Wreck-It-Ralph.
It has not yet been announced if she will also direct the movie.
A big screen adaptation of A Wrinkle in Time was first announced in 2010, with Bridge to Terabithia writer attached to pen the screenplay, but it failed to get off the ground.
It is understood Lee convinced Disney to revisit the book - which was one of the film-maker's favourites as a child - with her take on the novel, emphasising a strong female-driven narrative.
L'Engle's novel is the first of five books in the Time Quintet series published between 1962 and 1989.
If Lee's version is successful, it could pave the way for more films to follow.
Frozen earned Lee an Oscar earlier this year for best animated film.
The movie has taken $1.3bn (£772m) at the box office worldwide, making it the highest-grossing animated film ever.