Jeremy Clarkson 'not racist' says BBC chief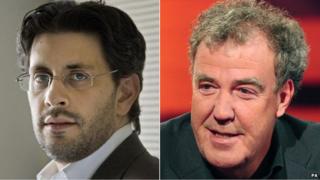 The BBC's head of television, Danny Cohen, has said he does not believe Top Gear host Jeremy Clarkson is racist.
In a letter to the Guardian, Cohen wrote: "It's no secret that there have been some significant issues on Top Gear in recent months.
"Whilst Jeremy and I disagree on the language some have recently found very offensive, I do not think he or anyone on the Top Gear team are racist."
Clarkson was given a final warning about his behaviour on the show in May.
It followed claims he used a racist word while reciting the nursery rhyme Eeny, Meeny, Miny Moe during filming of the BBC Two programme. Clarkson subsequently apologised.
Last week, Ofcom ruled Clarkson broke broadcasting rules during a Top Gear special in Burma, also known as Myanmar, when he used "an offensive racial term... which was not justified by context".
'Unique take'
Cohen recently implemented an internal review of the show, which he described in his letter as a "health check".
"The BBC has taken [the recent issues] seriously and has left no one associated with the programme under any illusion just how seriously," he wrote.
"I instigated a health check on Top Gear to ensure that there were no further issues."
The investigation, which has now been completed, is understood to have included interviews with co-presenters Richard Hammond and James May, and explored what the BBC expected of the show's stars.
Cohen added: "I want Top Gear to maintain its unique take on the world but more controversies of this nature would serve no one well."
He said he was "confident" the production team would ensure the show continued to be a "great success", adding the motoring show was "loved by millions of viewers around the world".
An earlier report in the Guardian claimed BBC director general Tony Hall saved Jeremy Clarkson from disciplinary action over the incident in May, overruling top executives including Cohen.