Steven Seagal plays gig in Crimea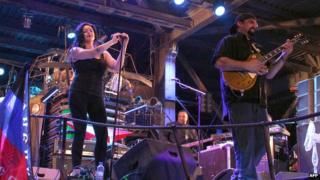 Hollywood actor and musician Steven Seagal has played a concert in Crimea on a stage adorned with the flag of pro-Russian separatists in Ukraine.
Seagal and his blues band took to the stage at a bikers' show in the city of Sevastopol, where Russia's Black Sea Fleet is based.
Fans waved Russian flags as Seagal sang and played his guitar.
The US and EU have imposed sanctions on Russia over its annexation of Crimea in March.
Russia is also alleged to have provided weapons and support to the rebels in eastern Ukraine.
Seagal said he had travelled to Crimea because music unites people, Russia's RIA-Novosti news agency reported.
The black, blue and red flag of the Donetsk People's Republic (DNR) hung in the corner of the stage.
Seagal's pro-Russian views saw him dropped from the line-up of an Estonian blues festival earlier this summer.
The bikers' show in Sevastopol was organised by a motorcycle group of Russian nationalists known as the Night Wolves.
RIA Novosti reported Seagal was handed a shirt with Putin's face on it, which he held aloft as he thanked the crowd.
Vladimir Putin's spokesman Dmitry Peskov told reporters last year the Russian president and Seagal had been friends "for a long time" and regularly meet.
Crimea's largely Russian-speaking population voted in March to become part of Russia in a hastily organised referendum.
The majority of Crimea's 2.3 million population identify themselves as ethnic Russians, a legacy of Russia's 200-year involvement in the region.
Action star Seagal, whose movie credits include Under Siege and Flight of Fury, has also starred in his own US reality TV show, Steven Seagal: Lawman.