The Inbetweeners 2 becomes UK's biggest film hit of 2014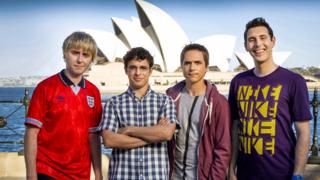 The Inbetweeners 2 has scored the biggest box office opening of the year so far, taking £12.5m at UK and Irish cinemas since its release on Wednesday.
That includes the £2.7m it earned on its opening night, a first-night record for a comedy film.
But the film failed to beat the takings of the first Inbetweeners movie, which opened with £13.2m in 2011.
The sequel follows the exploits of friends Will, Simon, Jay and Neil as they reunite in Australia.
The previous biggest opening of 2014 was Transformers: Age of Extinction, which took £11.7m in previews and its opening weekend in July.
Meanwhile, Teenage Mutant Ninja Turtles came out on top in the US and Canada, taking $65m (£38.7m) at box offices between Friday and Sunday, according to studio estimates.
Paramount, the studio behind the action film, immediately announced plans for a sequel, which will be released in 2016.
Paramount's Megan Colligan said the film's success was due to two different groups - those who remembered the original 1980s and 90s franchise and children who watched the recent Nickelodeon cartoon series.
"It's odd when you have 25 to 35-year-olds and then seven to 12-year-olds really excited about the same film," she said.
"The teen audience was actually the one that wasn't as familiar with the property, so we put a lot of focus on teens."
In North America, Guardians of the Galaxy dropped to second place, taking $41.5m (£24.7m).
Disaster film Into the Storm, starring Richard Armitage, took third place with $18m (£10.7m). Disney drama The Hundred-Foot Journey, starring Helen Mirren, was fourth with $11.1m (£6.6m).
US and Canada box office
1. Teenage Mutant Ninja Turtles - $65m
2. Guardians of the Galaxy - $41.5m
3. Into the Storm - $18m
4. The Hundred-Foot Journey - $11.1m
5. Lucy - $9.3m