Jake and Dinos Chapman sculpture removed from Rome gallery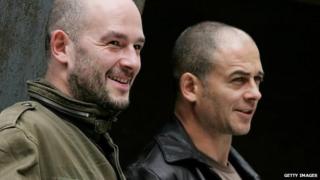 A nude sculpture by British artists Jake and Dinos Chapman has been removed from a Rome gallery after complaints from a children's rights group.
The sculpture, called Piggyback, had been on display at contemporary art gallery Maxxi since December.
But the Italian Observatory on the Rights of the Child labelled the piece "paedo-pornographic" and lobbied for its removal.
The piece depicts two girls, one with a penis sticking out of her mouth.
The fibreglass sculpture was created in 1997 by the Chapman brothers, who are known for their explicit and provocative works.
In a statement on the Observatory's website, the organisation's president, Antonio Marziale, denied attacking artistic expression, insisting it wanted the sculpture removed "to avoid promoting depictions with a clear paedo-pornographic context behind the art".
'Freedom of expression'
He also said he wanted to make the sure the work does not go back on display.
"Everyone must agree to promote a culture which is opposed to paedophilia without provocations of any kind," he said.
"And for this reason we are seeking guarantees that the alleged artwork will never be on show again".
But Maxxi director, Anna Mattirolo, defended the Chapmans and their work.
"Crudity is part of the Chapmans' work, they are known for works that denounce a sick reality," she told Italian media.
"They want to generate discussion about false morality and provoke debate and we firmly believe and support the freedom of expression of the artists."
It is the second time in recent weeks the Chapmans have created headlines.
Jake Chapman recently generated controversy by saying that taking children to art galleries was a "total waste of time".
His remarks were dismissed by other artists, including Turner prize-winner Anthony Gormley, who described Chapman as an "agent provocateur".