Lauren Bacall: In her own words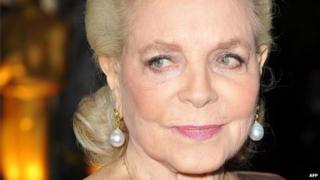 Actress Lauren Bacall has died at the age of 89. She delivered some of cinema's most famous lines, and went on to write three non-fiction books.
On her career
''When someone asks me why I'm still working, I want to say, 'Why are you daring to stand there and ask me this?' If I didn't work, I don't know what I'd do with myself."
"I hate parties, benefits, openings. I don't want to be a hostess. Aimless travel doesn't interest me. I know that the great starring role is never going to come along, but I will do a lot of things other actresses would not do. It keeps me occupied.''
"I think your whole life shows in your face and you should be proud of that."
On celebrity
"In Hollywood, an equitable divorce settlement means each party getting fifty percent of publicity."
"Stardom isn't a profession, it's an accident."
"Legends are all to do with the past and nothing to do with the present."
"I wish Frank Sinatra would just shut up and sing."
"It's inappropriate and vulgar and absolutely unacceptable to use your private life to sell anything commercially, but I think it's kind of a sickness."
On her husband, Humphrey Bogart
''Bogie's presence permeated my life ... It's taken me 20 years to realise I'll never get away from it nor should and don't wish to.''
''Bogart was a turning point in my life. He would tell me things and say, 'Long after I've gone, you'll remember this.' He was right. You can never get that kind of teaching out of your system. He stood out so glaringly in Hollywood because so much crap goes on there and he was never part of it.''
"I was a complete virgin when I met him. He was my mentor, my teacher and the love of my life. I remember every word he ever said to me, but I will never see him again."
On happiness
"Happy? That's a big word, maybe the biggest word in the dictionary."
"I figure if I have my health, can pay the rent and I have my friends, I call it content."
"The kind of happiness that wipes out all concerns, takes precedence over every other emotion... well, that kind of happiness is possible when you're in your 20s. You don't have enough experience at that age to feel the need to be cautious. That kind of happiness is impossible to duplicate."
"I am not a has-been. I am a will be."
On screen
''You know how to whistle, don't you Steve? You just put your lips together and blow." - as Marie Browning in To Have and Have Not.
"Will we ever see you again, Frank? Will we?" - as Nora Temple in Key Largo.
"Speaking of horses, I like to play them myself. But I like to see them workout a little first, see if they're front runners or come from behind." - as Vivian Rutledge in The Big Sleep.