Star Trek Spock bride Arlene Martel dies at 78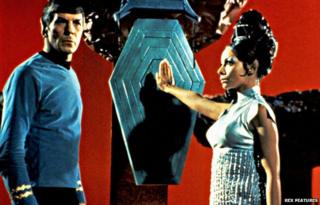 Actress Arlene Martel, who was best known for playing T'Pring, the prospective bride of Mr Spock in Star Trek, has died in California aged 78.
Her son told the Hollywood Reporter she died from complications of a heart attack on Tuesday in Santa Monica.
Leonard Nimoy, who played Spock, tweeted: "Saying goodbye to T'Pring, Arlene Martel. A lovely talent."
The actress also starred in dozens of US TV shows including Hogan's Heroes, Bewitched and The Twilight Zone.
The Star Trek episode in which she featured first aired in September 1967 and was noted for being the only one set on Spock's home planet of Vulcan.
The edition saw Spock return to the planet, where he must "mate or die", and featured a fight between the first officer and Captain Kirk to decide whether he married T'Pring - who was betrothed to him as a child.
Martel said in a 2003 interview she had no idea the small part would be remembered so fondly.
"Fans purchase my Star Trek photos at conventions, where I sign autographs. I had no idea that T'Pring would be so memorable to people," she said.
Born Arline Sax in the Bronx, New York City, the actress attended the famous High School for the Performing Arts.
Among her many other TV credits include appearances on The Man from U.N.C.L.E, Battlestar Galactica, The Untouchables, The Outer Limits and more recently, Brothers and Sisters.
On the big screen, she appeared opposite Rod Taylor in 1961's Hong Kong and played the lead role in 1964 mystery The Glass Cage.
In Robert Altman's 1957 documentary The James Dean Story, Martel said she was romantically involved with the actor for years.
She was married three times, including to actors Boyd Holister and Jerry Douglas, who appeared on US soap opera The Young and the Restless for more than 20 years.
She is survived by two sons and a daughter.