Jonathan Ross returns to BBC Radio 2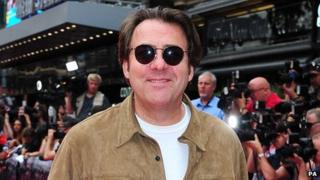 Jonathan Ross is to return to BBC Radio 2 for the first time in four years, sitting in for Steve Wright for four days while the DJ is on holiday.
Ross's slot comes six years after he caused a furore with Russell Brand on the station by leaving lewd answerphone messages for actor Andrew Sachs.
He was suspended for three months but then returned to the show for another 18 months before leaving the BBC.
However, Sachs' wife has described his return as "a slap in the face".
"It's highly inappropriate and I think it's disgusting," Melody Sachs told the Daily Mail.
One-off return
Ross will sit in for Wright on his afternoon slot from 26 to 29 August.
A BBC spokesman said it would be a "one-off" stint and that there were no plans for him to return permanently.
"Jonathan is an experienced and talented broadcaster who presented on Radio 2 for 10 years and was very popular with our audience," a BBC spokesman said.
"He is standing in for Steve Wright while he is on holiday and we hope listeners will enjoy listening to him on the network for these few days."
Responding to the criticism of his return, the spokesman added: "Jonathan apologised for his mistake at the time and returned to Radio 2 for a year after the incident, before leaving in 2010."