BSkyB makes 20% ethnic minorities pledge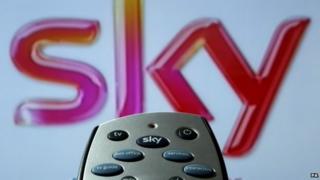 The broadcaster, Sky, has pledged that 20% of the writers and actors for its UK-commissioned TV shows will come from ethnic minorities by 2016.
The target applies to all home-grown programmes on Sky 1, Sky Atlantic, Sky Living and Sky Arts.
The broadcaster said it means 20% of "significant roles" will go to actors with an ethnic minority background.
Sky said the target is in excess of the 14% of the British population from minority groups.
"Sky is dedicated to making programmes that feel representative of every one of the millions of viewers that watch our content every day, whatever their colour," said Sky's Director of Entertainment, Stuart Murphy.
"Our aim is to kick start a sea change in the on screen representation of ethnic minorities on British television."
'New talent'
The broadcaster also said all its original programmes will have someone with a black, Asian or minority ethnic (BAME) background in at least one senior production role.
The aim, it said, is to provide "more opportunities for people with BAME backgrounds to reach senior positions within the production community".
Sky added it "will work closely with companies from the independent production sector to seek out and nurture new talent".
The move follows a BBC initiative in June that saw the corporation pledge to increase the number of BAME people on air by more than 40% over the next three years.
The BBC also announced a ring fenced £2.1m development fund to help fast-track BAME talent and programme ideas on to the screen.