The Inbetweeners thrash Sylvester Stallone at UK box office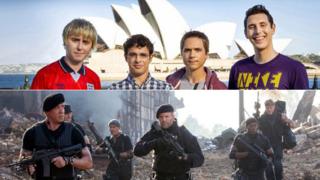 The new Inbetweeners film has continued to dominate the UK and Ireland box office, leaving the latest Expendables sequel floundering in its wake.
The Inbetweeners 2 stayed the top draw in its second weekend after taking £4.31m between Friday and Sunday.
The Expendables 3, starring Sylvester Stallone, limped into third place after making £1.69m in its first four days.
Sci-fi fantasy Guardians of the Galaxy held steady at two with a third weekend tally of £2.11m.
The latest blockbuster from the Marvel stable has now made almost £18.8m in the UK and Ireland since opening on 31 July.
That achievement, however, contrasts with that of The Inbetweeners 2, which has now made more than £22m since arriving in cinemas two weeks ago.
At four, Dawn of the Planet of the Apes is the current Top 10's biggest earner, having made £29.5m since making its UK and Ireland debut on 17 July.
How to Train Your Dragon 2, meanwhile, stayed put at five after taking £647,613 between Friday and Sunday - a sum that takes the animated sequel's overall takings in the UK and Ireland to more than £21m.
Takings for The Expendables 3 were down on those for The Expendables 2 in August 2012, which took £1.98m in its first weekend on UK and Ireland screens.
This was despite the fact that the makers of the latest instalment in Stallone's action franchise had hoped to attract a younger audience with a 12A certificate.
Hector and the Search for Happiness, Simon Pegg's latest comedy, was the only other new entry in this week's top 10.
The film, about a psychiatrist who travels the world in the hope he will find contentment, took a distinctly unhappy £240,222 after three days on release.
UK and Ireland box office chart
1. The Inbetweeners 2 - £4.31m
2. Guardians of the Galaxy - £2.11m
3. The Expendables 3 - £1.69m
4. Dawn of the Planet of the Apes - £1.09m
5. How to Train Your Dragon 2 - £0.64m
Source: Rentrak