Indian film censor accused of soliciting bribe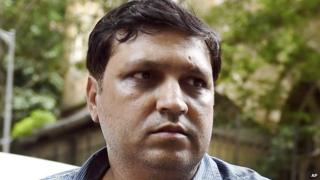 The head of India's Central Board of Film Certification (CBFC) has been arrested on suspicion of soliciting a bribe from a film producer.
Rakesh Kumar was arrested on Monday in Mumbai for allegedly seeking 70,000 rupees (£692) to approve a film from the central state of Chhattisgarh.
His arrest follows that of two men last week who allegedly sought the payment on Mr Kumar's behalf.
Mr Kumar has since been removed from his position, it has been reported.
According to India's Central Bureau of Investigation (CBI), the bribery attempt took place after a producer of the film Mor Dauki Ke Bihav approached the CBFC through a representative to seek an accelerated clearance.
Films cannot be publicly exhibited in India unless they have been certified by the CBFC, which is based in Mumbai and has nine regional offices.
According to its website, the board has a legally empowered "mission" to "ensure healthy entertainment, recreation and education to the public".
Its approval process can be slow and laborious, with multiple rounds of cuts sometimes demanded before one of its four certificates is granted.
Kumar, a former official with the Indian Railway Personnel Service (IRPS), took over as the board's chief executive earlier this year.
Soon afterwards, he reportedly told a Mumbai newspaper there was a large backlog of films which needed to be cleared.