Bryan Singer accuser seeks to have sex abuse case dismissed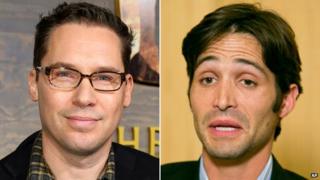 A man who claims he was sexually abused by director Bryan Singer is seeking to have his legal action dismissed due to problems securing legal representation.
In court documents filed in Honolulu, Michael Egan III said he wanted to have the case dismissed without prejudice, allowing him to refile at a later date.
Mr Egan's former lawyers asked to be removed from the case in July.
Bryan Singer is seeking to have the case dismissed with prejudice, with costs and fees imposed against Mr Egan.
"By allowing Egan to walk away from this lawsuit now... would be inherently prejudicial to Singer," his lawyers said in court papers.
Mr Egan, a former child model who is now 31, has accused the X-Men director of abusing him at the age of 17 in Hawaii.
His lawyers called the legal action "malicious" and said Singer must be given the opportunity to clear his name.
"The bottom line is this: Egan recognised he's going to lose this case," said lawyer Marty Singer, who is not related to his film-maker client.
"The real question is does the case get dismissed without prejudice or does the case gets dismissed on the merits?"
It was reported last month that his lawyers dropped him as a client after Mr Egan rejected a $100,000 (£60,285) deal to settle the case.
Mr Egan previously filed three similar legal actions against other Hollywood figures, all of which have been dismissed.