Critics hail Peter Capaldi's Doctor Who debut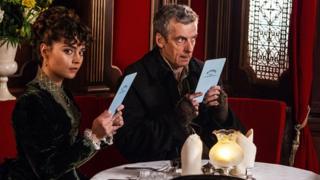 Critics have hailed Peter Capaldi's feature-length debut as the 12th Doctor, as the eighth series of Doctor Who premiered on BBC One on Saturday.
The Telegraph's Michael Hogan said the Scots actor "crackled with fierce intelligence and nervous energy".
Euan Ferguson, in the Guardian, called his performance "wise and thoughtful", though decried the plot as "demented".
At its peak the programme was watched by 7.3 million people, according to official viewing figures.
The BBC said it was the most watched opening episode of a Doctor Who series since 2010.
'Impeccable debut'
Richard Beech, in the Mirror, agreed Capaldi had "all the hallmarks of a great Doctor".
He called the 80-minute opening episode, entitled Deep Breath, "an impeccable debut".
"If you watched Deep Breath and you don't want to watch the rest of series 8, then there truly is something wrong with you," he wrote.
However fans of the series appeared less convinced.
(Spoiler alert: Key plot details revealed below)
The show received a mixed reception on Twitter, with some viewers deeming 56-year-old Capaldi "brilliant" and "amazing", while others describing the episode as "middle of the road" and "gimmicky".
"More depth and much better with an older actor. It's 1973 all over again and that's no bad thing," tweeted one fan.
"Overall I think Capaldi is going to be good, but the episode wasn't great. Pretty much what I have come to expect from Moffat," tweeted another, who landed the blame squarely with Doctor Who show-runner and Sherlock writer Steven Moffat, who penned the episode.
"You cannot tell me that this was badly written. This is the best episode that Moffat has ever made. I hope it stays this great," argued another.
"Seriously disappointed with Doctor Who. Bored, angry, frustrated, irritated, offended and let down. Wow."
The surprise reappearance of Capaldi's predecessor, Matt Smith - in the closing moments of the show - was greeted with joy by many fans, though the Mirror's critic called Smith's phone call from the future "divisive".
"For some, it will have been a genuine treat to see Matt Smith as the Doctor for one last time - but many didn't need the closure, and didn't need telling to get behind a man they already firmly believe in."
Moffat has described it as "the fastest return ever on Doctor Who!".
"It just felt utterly right for what we were planning for Peter's Doctor, and right for Matt's Doctor, that he would think of that as he was just about to go out the door." he told Digital Spy.
The critics were united in their praise for Jenna Coleman, returning as the Doctor's sidekick Clara Oswald.
Her character drove much of the action in what many saw as a "wayward" storyline, opening with a dinosaur stranded in Victorian London, and encompassing spontaneous combustion and robots harvesting human remains.
"The plot runs secondary to the emotional throughline here," wrote US critic Geoff Berkshire in Variety.
But he added: "What Capaldi lacks in youthful energy, he more than makes up for in gravitas and wry eccentricity, whether marvelling at his 'independently cross" eyebrows or gleefully embracing his Scottish accent as a license to complain."
"Behind his furrowed brow and tendency to complain, roil new and exciting storms, which may tilt the tale away from love and longing and back to adventure," echoed Los Angeles Times critic Mary McNamara.
"Either way, this Doctor is truly something else again."