How Richard Attenborough 'saved' the British film industry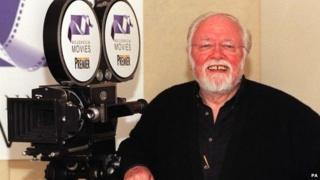 Richard Attenborough, who has died aged 90, has been lavished with praise for his contribution to public life.
The filmmaker donated his time, energy and money to a string of organisations as diverse as Unicef, the Labour party and Chelsea Football Club.
However, his life's work and his enduring passion remained firmly with the arts, in particular the British film industry.
"Nobody has done as much as he has for one industry," said Melvyn Bragg.
Fellow film producer David Puttnam, a close friend of Lord Attenborough, goes further, citing the Royal Academy of Dramatic Art (Rada) and the British Film Institute (BFI) among the organisations Lord Attenborough "saved".
He told BBC News there were "a number of institutions which we all regard as there forever, that - in one sense or another - Richard changed, or, in many cases, actually saved".
Lord Attenborough won a scholarship to Rada in 1941. Thirty-one years later, in 1972, he became the academy's chairman, and later president. His powers of persuasion were critical in securing lottery funding for Rada's new home in the late 1990s.
He was also chairman of the BFI for 13 years, which Lord Puttnam said "would not be in its present form" without his influence.
'Universal respect'
"He was instrumental in the creation of the British Film Industry in its current form," said Lord Puttnam.
Amanda Nevill, chief executive of the BFI, echoed those thoughts, saying Lord Attenborough played "a major part in enabling it [the British film industry] to attain and hold the position it has today as a world leader.
"Nobody achieves this level of influence, and almost universal love and respect, without being a very special individual themselves, somebody who is very, very driven. Always a man with a cause."
Ms Nevill credits Lord Attenborough with nurturing Paul Getty who became "a huge donor to the BFI". In particular, the philanthropist helped save and set up the National Film Archive.
Over the course of his six-decade career, Lord Attenborough worked tirelessly behind the scenes to secure meetings with key political figures.
He used his profile in organisations such as the BFI, the National Film and Television School and, most significantly, the British Academy of Film and Television (Bafta), to set up meetings and forge contacts.
Michael Grade noted his "huge authority and great intellectual rigour - people listened to him."
The filmmaker was one of the forces behind British Film Year in 1985, putting British cinema in the spotlight when it was in the doldrums.
Charm offensive
In 1990, despite being a Labour peer, he turned his charm on then prime minister Margaret Thatcher, leading a British film industry summit at a time when securing money for British films was proving nigh on impossible.
"Why didn't you come years ago?" Thatcher asked the filmmaker, whose film Chaplin was among only 24 British films scheduled for production that year. He allegedly replied: "Because I wasn't asked, darling."
The end result was the promise of a string of tax breaks for British films.
"I think I've done it!" he later told Lord Grade. "I think I've persuaded Mrs Thatcher to bring in tax incentives for the movie industry."
A couple of years on, it was John Major caught in the glare of Lord Attenborough's charm offensive.
"Every single human being working in today's film and television industry owes Dickie Attenborough maybe their entire careers," Lord Puttnam told the BBC.
"It was Attenborough who persuaded the then prime minister, John Major, to include film investment as part of the lottery commitment."
"He got lottery money into the film industry... and that transformed the industry.
"The industry was on its knees... in the late 80s and early 90s. It was Richard's ability to persuade John Major to include film in lottery distribution that altered everything."
Skill and compassion
At the time, Lord Attenborough was chairman of Channel Four which went on to become a "haven" for independent filmmakers in the 1990s, producing such films as Four Weddings and a Funeral, and Trainspotting.
Lord Attenborough was on the board of Channel 4 from the beginning, and is credited with persuading founding chief executive Jeremy Isaacs to invest in British film.
Referring to his years at Channel 4, Lord Bragg hailed him as "the man who instigated independent filmmaking in this country", saying he re-energised what is now a "colossal" industry.
He had "a genius for knowing what to do and for having the persistence to go ahead and do it," Lord Bragg told the BBC.
In a statement, Bafta - another institution the director was credited with saving - described Lord Attenborough, its former president, as a "titan of British cinema".
"British film would do well to live up to the example of industry, skill and compassion set by Richard, Lord Attenborough."