Lord of the Rings voted 'best movie soundtrack'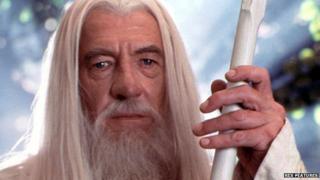 The soundtrack to the Lord of the Rings film trilogy has been deemed the best of all time, beating John Williams' 1977 Star Wars score into second place.
Composer Howard Shore's accompaniment won the Classic FM listeners' accolade for the fifth consecutive year.
Hans Zimmer's music to Gladiator, Schindler's List by John Williams and John Barry's soaring Out of Africa score made the top five.
The top 100 movies were included in the hall of fame based on listener votes.
Williams was the most successful film score composer, landing four of the top 10, including Harry Potter and the Philosopher's Stone and Jurassic Park.
The classical music station counted down the chart on Monday, kicking off with John Barry's music to the film Midnight Cowboy in 100th spot.
The jarring soundtrack to Alfred Hitchcock's Psycho was at 80, with Howard Shore featuring again with his music for The Hobbit at 21.
Presenter John Suchet said he was glad to see that his own personal favourite - Gone With The Wind by Austrian composer Max Steiner - had made the top 20.
A BBC cinematic soundtrack vote in September put John Williams' Star Wars at the top of the pile, followed by The Good, The Bad and The Ugly and West Side Story being placed third.
Top five movie soundtracks
1. Lord of the Rings trilogy
Howard Shore
2. Star Wars (1977)
John Williams
3. Gladiator
Hans Zimmer
4. Schindler's List
John Williams
5. Out of Africa
John Barry