Kate Bush fans' verdicts on comeback show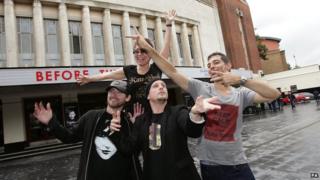 Kate Bush has performed in front of her fans for the first time in 35 years.
The Before the Dawn series of 22 shows sold out in minutes when tickets went on sale in March.
And as the run kicked off in west London, fans came from around the world to see Bush take to the same Hammersmith Apollo stage she departed for the last time in 1979.
What did they make of it?
---
Chafik Hadjoudj flew from from Montreal, Canada:
"This was a once-in-a-lifetime chance to see her in person, and hear her voice live.
"I'm overwhelmed by emotions. The show was very true to Kate Bush - she took risks, she was simple, honest, and unpredictable.
"Hearing and watching her perform those songs was very moving.
"Almost as important as the show itself was the opportunity to meet and be surrounded with fellow Kate Bush fans."
---
Lucy Melly from Glasgow, Scotland
"It was unlike anything I've ever seen. I don't think I'll ever see anything like that again. I'll be still talking about in 20 years' time.
"The welcome she got from the fans was overwhelming.
"The show was operatic almost, like no other gig I've been to. As well as being musically brilliant it was visually spectacular."
---
Shara Hayes, speaking to Radio 5 live
"Everyone was so overwhelmed by the whole concert.
"It's a live show that takes you through a whole journey, sucks you in, takes you through a real story.
"It's not just playing music - it was actually seeing someone do something really adventurous still after all these years, something that you're still mindblown about."
---
Bernadette Russell from Deptford, London.
"I spent my last money on tickets for this as I was unemployed at the time, but it was worth it.
"We've all been crying all the way through."
Michael Anmuth flew from San Francisco, USA:
"It's awesome - really, really great.
It was worth travelling this far because I've waited forever to see her. It has cost me a lot but it's definitely worth it."
---
Madeleine Swain, from Australia:
"Saw her when I was a teenager in Birmingham and this week flew back from Australia to see her again and be there sharing that moment when she walked on the stage again for the first time.
"Would do it again in a heartbeat. Utterly sublime."