Bryan Singer accuser drops sexual abuse case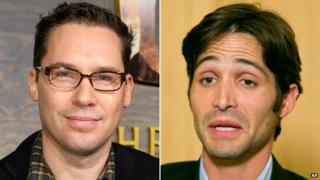 A man who claims he was sexually abused by Bryan Singer has dropped his legal action against the X-Men film-maker.
A judge in Honolulu granted Michael Egan III's petition to have the case dismissed without prejudice, allowing him to refile at a later date.
Singer's request to have the case dismissed with prejudice and to make Egan pay his legal costs was rejected.
"We're pleased that it's over," said Singer's lawyer Marty Singer, who is not related to the US director.
"Although we would have liked the case dismissed on merits, the fact that now it's dropped... is satisfactory."
Egan, a former child model who is now 31, has accused the 48-year-old director of abusing him in Hawaii when Egan was 17.
Egan previously filed three similar legal actions against other Hollywood figures, all of which were later dismissed.
US district judge Susan Oki Mollway ruled that "any alleged damage to [Singer's] reputation may well be ameliorated by plaintiff's voluntary dismissal of the action".