Roald Dahl draft spills Charlie and the Chocolate Factory secrets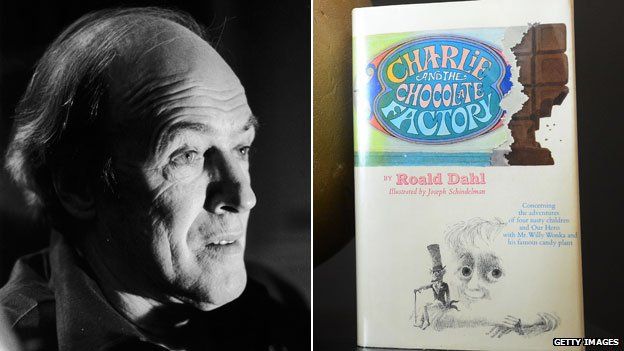 Little-known characters and incidents that could have featured in Charlie and the Chocolate Factory have been revealed by the Roald Dahl estate.
An unused chapter from a 1961 draft of what was then Charlie's Chocolate Boy takes the reader to the Vanilla Fudge Room in Willy Wonka's factory.
It also includes two new children and refers to two others who do not feature in the version published in 1964.
Dahl's classic children's novel marks its 50th anniversary in October.
It tells of a young boy called Charlie Bucket who finds one of five golden tickets that grant privileged access to Wonka's magical empire.
The book features four other children - Augustus Gloop, Veruca Salt, Violet Beauregarde and Mike Teavee - who are punished for their naughtiness during the visit.
Yet the draft chapter - published in full in Saturday's edition of The Guardian - reveals there were as many as 10 golden tickets, and children, in earlier versions.
Two of them, Tommy Troutbeck and Wilbur Rice, get into trouble through their disobedience on the Vanilla Fudge Mountain featured in the chapter.
The excerpt also contains references to children named Augustus Pottle and Miranda Grope and has Charlie accompanied by his mother, rather than his Grandpa Joe.
According to Lucy Mangan, author of Inside Charlie's Chocolate Factory, Dahl wrote five drafts of his story, four of which survive.
"With each draft it evolves into something more purely joyful, more extreme [and] more fully realised," she told the BBC's arts editor Will Gompertz.
Reading the drafts, she continued, showed the author "learning his craft".
"He was very disciplined and wanted it to be as good as it could be."
The story and characters went through many changes along the way. Wonka's Oompa-Loompas, for example, were once called Whipple-Scrumpets.
Charlie and the Chocolate Factory became one of Dahl's most popular novels and went on to spawn a sequel, Charlie and the Great Glass Elevator.
Filmed in 1971 (as Willy Wonka and the Chocolate Factory) and again in 2005, the book recently inspired a successful West End musical.
Related Internet Links
The BBC is not responsible for the content of external sites.