Classical Saxophone in Proms spotlight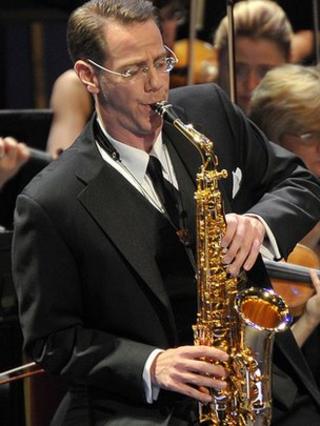 An unusual piece makes its UK premiere in this season's BBC Proms - John Adams' Saxophone Concerto.
While the concerto is long-established in classical music, the saxophone - 175 years after it was invented - remains a bit player in the orchestra.
So why has this iconic instrument found it so hard to nail its star into the classical firmament?
For US composer Adams, there is one overriding issue.
"The saxophone is by now a very anecdotal sound," he explains.
"When people hear it they immediately connect, even unconsciously... with popular music, whether it's blues, or R&B, or jazz. It's almost impossible to divorce one's awareness of the sax sound."
Adams sings the five-note saxophone motif from Leonard Bernstein's West Side Story as an example.
"That's so iconic," he says, "and when you hear that you just make all of these connections - urban New York and street people and kids and jazz... sex, drugs, and violence.
"Those things all come together in a constellation of images and suggestions.
"The saxophone, just like the electric guitar... carries that cultural message with it."
Featuring the same highly articulated, energised rhythms that have been a part of Adams' work since his minimalist works of the late 1970s, the Saxophone Concerto also draws on the composer's "awareness of the vernacular", a characteristic he describes as "one of the hallmarks of American classical contemporary music".
"The saxophone is really a part of my gene-pool, because my father played the instrument during the '30s and '40s and I heard a lot of saxophone music growing up."
The concerto was informed by the American jazz tradition, says Adams.
When it came to writing the piece, he had in the back of his mind recordings by great jazz musicians such as Charlie Parker, Stan Getz, and Julian 'Cannonball' Adderley.
But although he has loved those recordings since he was a teenager, Adams "didn't make a conscious attempt to try to create a jazzy piece".
In fact, Adams says, his most obviously jazz-influenced work is a 2010 composition, City Noir.
The saxophone part for that work called for a classically-trained saxophonist who could play a very difficult part in a 1950s jazz-style.
US saxophonist Timothy McAllister was drafted in for the job, and when Adams heard him play, he decided to write the Saxophone Concerto for him.
And it is McAllister who is performing the piece at the Proms, with conductor Marin Alsop and the BBC Symphony Orchestra.
McAllister's own journey as a classical saxophonist began in his school concert band, before one of his tutors made him aware of an "underground society of classical players".
"I had a private teacher who was presenting me with books and studies, and who started giving me recordings of a lot of the classical musicians in that field," McAllister explains.
"When I started hearing the actual concert works for the saxophone - various sonatas and concertos - by some of our top figures, I was really taken by that."
McAllister developed rapidly on the instrument and by his mid-teens his pathway had become clear.
"I won my first concerto competition at 16," he says, "and I remember that was a real eye-opening experience, playing with an orchestra for the first time, with a conductor.
"From then on I was just hooked."
But McAllister acknowledges the challenges the saxophone still faces in the classical world.
The orchestral repertoire for saxophone rests on just a handful of 20th Century pieces, so classical players like McAllister have to look further afield.
"Saxophone in the orchestra is never going to be a mainstay," he admits, "but there are thousands of pieces that include saxophone in the orchestral instrumentation."
Classical saxophonists, he says, are "much more involved in the world of commissioning new music", than other classical instrumentalists. And as well as working with established modern composers such as Adams, McAllister is "spending a lot of time networking with emerging composers".
It seems then that it will take the continued efforts of players like McAllister to raise the profile of the saxophone in classical music.
And although works like the Adams' Saxophone Concerto help boost the instrument's concert hall credentials, it may still be some time before the saxophone can truly take its seat in the orchestra.
John Adams' Saxophone Concerto at the BBC Proms. Thursday 4 September, 19:30