Downton star leaves behind Matthew Crawley for US action role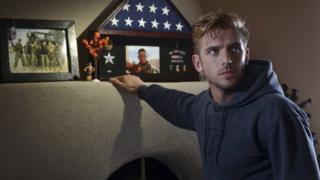 He gained legions of fans in both Britain and North America playing aristocratic heartthrob Matthew Crawley in ITV's Downton Abbey. Now Dan Stevens has become part of a new elite of young British actors making their names in Hollywood thanks to their television success.
The 31 year old from Croydon, South London, has just shot six feature films in a year, including his first leading movie role - The Guest, an independent comedy horror, in which Stevens plays an ex-soldier programmed to kill anything and anyone who gets in his way.
"This was not written for me in any way, I had to beg for the part," Stevens explains. "I just read it and the wonderful thing is that it is so playful, and crosses so many genres - there are echoes of Terminator 2 in there, and other action franchises, as well as horror and black comedy. I was laughing out loud.
"I met Adam Winguard, the director who is a bit of a cult celebrity as he also made a very similar film to this, You're Next, and I think what tickled him was the idea of the first scene, when this solider, David, rings a doorbell. The family open it, and there he is - the guy from Downton Abbey as you've never seen him before."
The actor adds that he had to "promise to lose weight and shape up so I'm nothing like that period drama hero, so hopefully after a few scenes audiences then forget about Matthew Crawley; it's just the initial comic reaction Adam wanted."
Stevens, who is married with two young children, made the transition to making films in the US in 2012, after two hugely successful years playing Matthew Crawley in the ITV series, which gave the Cambridge-educated actor his first starring role.
The character's love story with his distant cousin Mary, played by Michelle Dockery, was a hit with audiences, and Stevens's untimely exit from the series caused uproar on social media, who questioned whether he was making the right decision to leave.
But now, as well as The Guest, Stevens has roles in Night of the Museum: Secret of the Tomb, where he plays opposite Ben Stiller; The Cobbler with Adam Sandler; and the thriller A Walk Amongst the Tombstones, playing opposite Liam Neeson.
Other young British actors who have made the transition from TV to starring parts in Hollywood include Kit Harrington from Game of Thrones, who was the leading man of 2014 blockbuster Pompeii; Emilia Clarke, also from Game of Thrones, who will play Sarah Connor in the next Terminator film in 2015; and his co-star Michelle Dockery, whose next project, the drama Selfless, sees her play opposite Ryan Reynolds.
"We are just very, very lucky to have been in the right place at the right time," Stevens admits.
"I think there is a fluidity to the industry that there has never been before and television stands alongside film in terms of quality. While many of us have done film work before, it is the popularity of Game of Thrones and Downton Abbey that are giving actors like me these chances.
"These shows are so beloved, so hugely popular, especially in the States, that I guess we all have a familiarity with audiences, they feel like they know us, as we're in their living rooms every week.
"Downton and Game of Thrones have thrown a lifeline to our industry in Britain and I think the popularity of British talent over in North America has never been greater.
"I always feel very honoured when I'm awarded roles like this one in The Guest, where I'm a typical American anti-hero - they really don't have to do it, they've got plenty of outstanding people of their own to pick. It's a hugely competitive place and if you have any success at all, you have to be grateful.
"I was so sorry to leave Downton and devastate fans," he continues. "I'm still saying sorry to them in the street. And I already believe that I will never get to do anything else in my career that has that level of devotion from its audience. But at some point you have to make a jump."
The first blockbuster Stevens had a part in, 2013's wikileaks drama The Fifth Estate, had subdued critical reaction, but The Guest has a rare 100% "fresh" review from the movie website Rotten Tomatoes, and Time Out calling it "a welcome switch-up for Stevens. Those blandly blond good looks, here accessorised with an apple pie American accent, are put to sinister use."
The actor confesses, though, that he has "no handbook for how to have a successful movie career, I have no idea what my next move should be.
"I've just decided to do films that regardless of budget, nurture and foster a great atmosphere on set. The Guest was one of those, because it was just an incredibly playful atmosphere with a very unique sort of script. And then the next moment I am lying on the floor in the Night At The Museum, playing Sir Lancelot, watching Ben Stiller do his stuff.
"That's when you pinch yourself, when you can't believe what's happening, and how on earth you've achieved this level of popularity, almost completely by accident."
The Guest is on release in the UK from 5 September, 2014