Profile: Rona Fairhead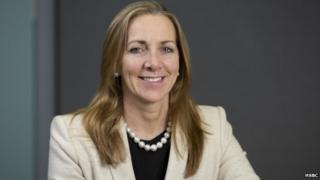 Rona Fairhead, the prospective new chairwoman of the BBC Trust, will be the first woman to lead the corporation's governing body.
Her nomination as the government's preferred candidate for the post comes at a challenging time for the BBC in light of the Savile scandal, concerns over executive pay and questions over the future of the licence fee.
Perhaps less well known publicly than her predecessor Lord Patten, the former Financial Times chief executive has a wealth of experience in business and media.
She has served on the boards of a number of multinational companies including, currently, HSBC and PepsiCo and has held leadership positions with plane and train-maker Bombardier, and in chemicals at ICI, where she was executive vice president of strategy and group financial control.
She later moved to the world of newspaper publishing, joining the Financial Times Group, where she worked as chairman and chief executive for seven years until 2013.
She was also an executive director of the group's owners, Pearson, until 2013.
Educated at Yarm independent school in Stockton-on-Tees, Mrs Fairhead went on to graduate with a double-first degree in law from St Catherine's College, Cambridge. She later earned an MBA from Harvard Business School.
Her father was physicist and her mother was a teacher.
Mrs Fairhead, 53, became a CBE in 2012, and this year was named a British Business Ambassador for professional and business services, a role which involves promoting UK business on an international stage.
She also sat as a non-executive director on the Cabinet Office board, which sets out the direction of the department, but has now stood down in order to separate herself from government for her new role with the BBC.
She has also been a non-executive director for the Economist Group - which publishes analysis on international business and world affairs.
A mother-of-three, Mrs Fairhead cites her hobbies in Debrett's as skiing, flying, scuba diving and family. She is married to Tom Fairhead, who is a former Conservative Party councillor for the borough of Kensington and Chelsea, and the couple own property in Notting Hill.
When asked about her own political affiliations, by a committee of MPs, she said: "I have never in my life been politically active. It's not my husband who's applying for this role [at the BBC], it's myself."
Mrs Fairhead told the committee that she "woke up and went to bed with the BBC", saying she listened to Radio 4's Today programme and watched the 10 O'Clock News and news channel. She uses the BBC website, and watches "across the range" including drama Sherlock, and Strictly, she added.
She is reported to be a member of the Bournemouth Flying Club, and she has an account on social networking site Twitter, which has 243 followers, but Mrs Fairhead is yet to tweet a message.
A former teacher at Yarm, Liz McDonald, said of Mrs Fairhead that she had "amazing grit" and was a "a very clever girl, not loud or pushy, very modest".
In 1998 Mrs Fairhead gave a rare interview to the Independent newspaper and said it was important to show that a woman could be both successful in a career and a mother.
"I have to be very focused since my priorities are my job and my family," she said.
During her career at the Financial Times Group Mrs Fairhead underwent treatment for breast cancer.
Charter renewal
While the BBC Trust came into existence only in 2007 and has had two chairmen - Lord Patten and Sir Michael Lyons - its forerunner, the BBC board of governors, was led by a succession of men - 21 in total.
If her nomination is approved by the Queen, Mrs Fairhead will be charged with ensuring the BBC delivers on its commitments as a publicly funded broadcaster on behalf of the licence fee payer.
One of the biggest jobs on her agenda will be the renewal of the BBC's royal charter, which sets out both the corporation's independence and its obligations to the public.
The charter is reviewed every 10 years and is due to expire in 2016. The period running up to renewal sees a great deal of lobbying, including by those who want to see the BBC scrapped or privatised.