Toronto Film Festival 2014: Reporter's diary - Days 1-6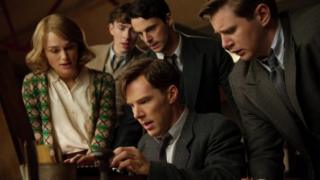 The 39th Toronto International Film Festival (Tiff) began on Thursday with Robert Downey Jr drama The Judge kicking off the proceedings.
The festival is widely considered to be start of the annual film awards season, serving as a high profile launch pad for movies that have gone on to Oscar glory.
With films such as Slumdog Millionaire, The King's Speech and 12 Years a Slave picking up the festival's top award in recent years, the Toronto Film Festival is now one of the most important events in the industry calendar.
The BBC's Genevieve Hassan is at the festival to report on the movies, stars and industry heavyweights making waves on the shores of Lake Ontario.
You can continue to read Genevieve's diary by following this link.
TUESDAY 9 SEPTEMBER 13:00 (18:00 BST)
Rules of red carpet reporting:
1. If you're reporting for TV, you get to go first - the film camera is king.
2. If you're reporting for radio, you get to second.
3. If you're reporting for a print publication, you're third in line - although sometimes you can be bumped ahead of radio.
4. If you're reporting for a website, you'll be lucky to get anything.
Unfortunately for me, although I may be working for an international news organisation, I fall into the last camp.
The procedure here is at around 09:00 an email detailing the day's red carpets is set out and you request a spot on the press line.
When you arrive, you are then assigned a number - your place in the line.
This number is decided by festival organisers and made "based on many factors including audience, reach, geography and relevance for a particular film".
A note to press adds: "Once assigned, your spot will not be changed or negotiated. Please respect our decisions and understand we are being as fair and strategic as possible."
I'm not sure how the BBC News website fits into these parameters, but so far, I have attended three red carpets - for British films The Riot Club and The Theory of Everything, as well as Steve Carrel drama Foxcatcher.
For the first I was placed 17th out of 20, the second 14th out of 17 and for Foxcatcher 38th in a line of just under 50.
This usually means by the time the stars have repeated themselves more than a dozen interviews they get whisked past me without even stopping.
If I'm lucky one question can be asked on behalf of a group of about eight different outlets - which can sometimes mean all I'm left with is a quote about what dress someone is wearing, or who they've met at the festival so far.
It is getting a tad frustrating, so I have made a plea to the press office for a better spot tonight at The Imitation Game premiere.
We'll see how I get on.
TUESDAY 9 SEPTEMBER 07:00 (12:00 BST)
For the first four days of the festival, a large section of King Street - the main road where TIFF HQ and two of the gala screening theatres are located - was pedestrianised and made home to a continuous street party.
A giant chess set and pop-up theatre performances in a shed were some of the attractions on offer.
There was also a brightly coloured piano in the middle of the road which anyone was welcome to play.
Apart from the professionals brought in for sessions, it was mostly Chopsticks and Heart and Soul - the song played by Tom Hanks on the giant floor piano in Big - I heard people play with varying degrees of ability.
I was tempted to jump on and flex my Grade 5 muscles, but decided against it.
Now King Street has re-opened it's back to business as usual.
The premieres are still continuing though and there's nothing stranger than seeing celebrities on a red carpet with a streetcar trundling past.
MONDAY 8 SEPTEMBER 22:00 (03:00 BST TUESDAY)
Another day, another film about a British scientist.
Yesterday was Stephen Hawking biopic The Theory of Everything, today was The Imitation Game starring Benedict Cumberbatch. Coincidentally, the Sherlock star is the only other actor to depict Hawking on screen, in a 2004 BBC film.
Here he plays mathematician and computer scientist Alan Turing, who decoded a German Enigma machine captured by the Royal Navy and helped bring about the end of World War Two. (Unless you believe the 2000 Matthew McConaughey film U571, which rewrote history to say the US seized it first...)
Beginning in 1939, it follows an arrogant, irascible 27-year-old Turing who is brought in to help decipher the German's messages alongside some of the best cryptologists in the country.
A clash of personalities and Turing's eccentric behaviour, coupled with his insistence to build a machine to decode the messages, alienates his colleagues. This leads to the employment of Joan Clarke (played by Keira Knightley) to assist in the job - a formidable intellectual sparring partner.
What follows is a fairly procedural look at the failed attempts and subsequent success at cracking the code, while simultaneously running a parallel story set in 1951 when Turing was arrested and sentenced for indecency - back in a time when homosexuality was illegal in the UK.
The Imitation Game will inevitably be held up against The Theory of Everything, with Cumberbatch and Redmayne's performances compared.
Ultimately, Redmayne will be the victor. Cumberbatch puts in a great turn as a socially awkward Turing, but even when he displays his arrogance he's still too likeable for us to believe his colleagues hate him.
Redmayne completely transformed himself to play Hawking - here Cumberbatch had a bit of a haircut and didn't seem to have to make a big leap to put on a Received Pronunciation voice.
Stylistically the film just doesn't pack the punch of Theory. There aren't really many stand-out moments, whereas lots of Redmayne's scenes are still swimming around my mind.
The only real emotion we see is later in the film when Turing begins the process of chemical castration in lieu of prison time for his conviction.
I noticed at the start of the film "based on true events" flashed up on the screen. Maybe it's because it's in our history we are aware of Turing's achievements, his personal life and posthumous pardon from the Queen last year.
But the Canadians around me gasped at his untimely death - and had no idea he was the man who pretty much invented the computer.
Stephen Hawking's celebrity status will probably help drive audiences to see his biopic, while Turing's apparent lack of global fame will rely on Cumberbatch and Knightley fans to watch his.
It's a shame because it's a story worth telling and the film is good - just don't watch it a day after The Theory of Everything.
MONDAY 8 SEPTEMBER 01:30 (06:30 BST)
I've just come back from the red carpet of Stephen Hawking biopic The Theory of Everything starring Eddie Redmayne as the famous physicist.
The actor told me taking on the role was "a mixture of a dream and utter fear".
I saw the film just before and all I can say is - WOW. Redmayne is simply extraordinary in his portrayal of the scientist.
We see him first as a sprightly PhD student at Cambridge University and meets languages student Jane, who later became Hawking's wife - and whose memoir the film is based.
After Hawking is diagnosed with motor neurone disease at 21, Redmayne's physical transformation as the scientist's health deteriorates is remarkable - the sloping shoulder, curled limbs, slurred speech.
Behind all this is the love story between Stephen and Jane. Felicity Jones, who plays Hawking's wife, gives a brilliantly understated performance as she struggles to dutifully nurse her on-screen husband through each stage of his illness.
The film's score is so beautifully written it left many around me in tears at the extra emotion it brought.
Even I thought I was going to crack at one point - the last time I felt this way about a film's music was in the opening 10 minutes of Pixar's Up.
Redmayne's performance will no doubt be compared to Daniel Day-Lewis's in My Left Foot - which saw the star win the Oscar for best actor in 1990.
Oscar buzz surrounds this film and Redmayne is a shoo-in to be nominated - if not win - many awards.
UK cinema goers will have to hold on until 1 January to watch the film, much later than the 7 November US release.
But trust me when I say it'll be worth the wait.
SUNDAY 7 SEPTEMBER 1330 (18:30 BST)
Last night, I spoke to some of the stars of British film The Riot Club at the film's premiere.
Based on the West End play Posh, it is inspired by the infamous Bullingdon Club - an exclusive club for the elite at Oxford University, which counts UK Prime Minister David Cameron and Mayor of London Boris Johnson as previous members.
The film follows the raucous and debauched behaviour of the group, focusing on how upper-class self-entitlement can spiral out of control.
I asked Hunger Games star Sam Claflin, who plays toff Alistair, why us Brits seem to be so obsessed by the class system.
"I don't know exactly why we're so fascinated by it - I think it's always been there embedded in us as English people and will forever be somewhat, as it's our history," he said.
"What's interesting about this film is we've never really seen this gang culture in the upper classes - it's always the lower classes and around people striving to achieve more and want more money or want to become more powerful.
"This is gang culture in the people that are already powerful and rich. They have nowhere else to go, so what do they do? It's equally as relevant.
"It's one of those things in politics they avoid quite often and it not talked about which I think is hilarious."
Toff-tastic
Director Lone Scherfig, who was behind 2009 film An Education, added that the film was "very much about living up to the responsibility that privilege gives you".
She also said she hoped the prime minister and his cohort would go to watch the film when it is released in UK cinemas on 19 September.
"I hope they will laugh in the right places - self-irony is a good thing you have in England," she said.
Claflin and Max Irons (son of Jeremy) put in convincing performances that will surely put them on the path for greater things.
But the film might be seen as a bit too stereotypically toff, with the Hooray Henrys slightly over the top in their use of the Queen's English.
As someone who is far from the upper echelons of society, I left the cinema feeling a little bit depressed at the issues touched upon and the notion that if you have enough money, you can buy your way out of anything.
SUNDAY 7 SEPTEMBER 06:15 (11:15 BST)
How would you entertain Michael Douglas if he came to your house?
This was a question I found myself asking a couple of weeks ago when I was offered the opportunity to interview the star while in Toronto.
"Do you have a base or will you be mobile?" the PR asked me.
Well, I am mobile and can go anywhere necessary, but I do have a base - I'm staying in the building above TIFF HQ, where all the press conferences are held, which is pretty convenient.
But then I thought - what do you give Michael Douglas if he pops round for half an hour? Drinks and nibbles? I only have a bag of peanuts and a can of lemonade in the fridge.
Will I have to tidy up? Make him take his shoes off at the door?
Thankfully I didn't have to worry too much as the PR arranged a hotel for me to do the interview. So I'm popping down the road a bit later to speak to the man himself.
Hopefully there will be some decent nibbles.
SATURDAY 6 SEPTEMBER 22:00 (03:00 BST)
My red carpet experience was far from glamorous. It wasn't actually on a red carpet either.
That was reserved for celebrities while the ordinary ticket holders had to queue up the street and around the corner. Only when all the red carpet arrivals were done could we enter.
I have to admit I feel a bit cheated.
While waiting for The Reach to begin, I befriended a couple of locals sitting next to me.
They had bought a festival premiere ticket package, which allows them entry to three red carpet screenings. The catch is they can't choose which films to see - it's chosen for them.
As well as The Reach they were allocated a Q&A with US TV host Jon Stewart, who has brought his feature directorial debut film Rosewater - telling the true story of journalist Maziar Bahari who was held captive in Iran for 100 days in 2009 - and the Julianne Moore film Still Alice.
Although my new friends weren't overly happy with not being able to choose the films they wanted, they seemed satisfied enough with what they were allocated.
Based on the Robb White novel Deathwatch, The Reach is a suspense thriller starring Michael Douglas an arrogant businessman named Madec who hires young guide Ben (British actor Jeremy Irvine) to hunt bighorn sheep.
When Madec accidentally shoots an old prospector and he realises Ben won't help him cover it up, a cat and mouse game ensues as the businessman tries to silence Ben forever.
The film whips through at a fast pace during its 90 minutes and seemed to keep the audience gripped, audibly gasping at all the requisite points.
As a no-brainer popcorn movie it perfectly serves its purpose - there's no hidden meaning, no big themes or huge character depth. It's a straight-up good guy versus bad guy film.
But if you find it hard to suspend your disbelief you might groan a bit towards the end.
SATURDAY 6 SEPTEMBER 13:00 (18:00 BST)
The problem with film festivals is there's so much on - screenings, press conferences and one to one interviews - your day is spent running around trying to cram everything in.
It needs to work like a well-oiled machine and if anything overruns, it throws your whole day out.
I had been lucky with most events running to time so far, up until this morning.
I was scheduled to attend a roundtable - a type of mini news conference where about eight journalists sit around a table with the talent or director of a film - for The Drop, Tom Hardy's latest crime thriller, which premiered yesterday.
Slated to begin at 10:00 with about 15-20 minutes with the actor and his co-star Noomi Rapace, I booked myself in for a one-to-one with The Face of an Angel director Michael Winterbottom at 11:00.
In theory this should have worked out fine and even allow me a bit of leeway. However, Mr Hardy had other ideas.
At 10:00 we were told it would begin at 10:10. At 10:20 we were told he was on his way. By 10.35 we were told he was having "scheduling issues" and Noomi would start the interview on her own first, with Tom expected to join later.
Unfortunately it was a wait too long for me to get over to my next appointment so I had to leave. But a friendly fellow journalist offered to send me her audio recording of the interview, so it's not a total bust.
With Hardy "on his way" for 40 minutes, I wonder if he got lost in the hotel...
In an hour I'll be walking the red carpet myself as I have a ticket to the premiere of Michael Douglas thriller The Reach.
No pictures please!
SATURDAY 6 SEPTEMBER 00:30 (5:30 BST)
It was the hottest day of the year in Toronto on Friday at 32C.
Unluckily - or luckily - for me I spent most of it inside at various cinemas over four screenings. Including when the heavens opened and a rain storm passed over - drenching poor Bill Murray for the premiere of St Vincent.
My morning started with Jason Reitman's drama Men, Women and Children, followed by Al Pacino's The Humbling, Tom Hardy thriller The Drop and Michael Winterbottom's Meredith Kercher-inspired The Face of an Angel.
Pacino gives a somewhat self-indulgent performance in the adaptation of Philip Roth's final novel.
Playing an ageing actor losing his skills, it offers the star the opportunity to recite a few Shakespeare soliloquies to show off his theatrical acting chops.
He also provides some great comedic moments including a hilarious scene where he gets a shot of horse tranquiliser at a vet to help ease his back pain.
I have to keep tight-lipped about the other three films until they've received their official premieres, so watch this space.
In the meantime, I've been in Toronto now for a couple of days and thought I would share a few observations I've made:
1. Torontonians will happily chat to you on the street, even though you're a complete stranger - and as everyone is so friendly, you're happy to chat back. If this was London, everyone would ignore you and carry on with a 100 yard stare, especially if you ask for directions.
2. On subway trains, people about to embark actually move aside and wait for passengers to get off the train first instead of barging on regardless. Take note London Underground.
3. Pedestrian crossings emit a range of bird chirping sounds when the cross sign is displayed.
4. This is only of interest to women, but I am apparently the only female in the whole of downtown Toronto that wears black tights... or any tights at all for that matter…
5. No matter what country you're in, at a party there's always one guy dancing to the beat of his own drum.
FRIDAY 5 SEPTEMBER 13:00 (18:00 BST)
Pushing The Judge screening back yesterday was a blessing in disguise as I was able to watch musical drama Whiplash instead.
This film received rave reviews at both Sundance and Cannes and I had to see why. It didn't disappoint at all.
JK Simmons - who is usually relegated to small supporting roles in films and spent seven years on the US drama The Closer - puts in the performance a lifetime as a foul-mouthed, militant jazz band conductor.
I'm sure some of his insults and put downs will be quoted for years to come.
Miles Teller, who plays an aspiring musician aiming to be the best drummer of the 21st Century and literally sheds blood, sweat and tears for his dream, unbelievably did most of his own drumming in the film.
The 27-year-old looks far younger than his years to convincingly play a first-year music student.
His talent here shines through - one which will probably be lost when he takes up the role of Reed Richards aka Mr Fantastic in next summer's superhero reboot of The Fantastic Four.
Even if you're not a fan of drum solos, you will be by the end of the film. It's refreshingly original and never predictable, right up to the end.
You'll have to wait until January 2015 to see it though when it is released in UK cinemas.
FRIDAY 5 SEPTEMBER 08:00 (13:00 BST)
Film fans of Toronto rejoice for today is Bill Murray Day!
TIFF organisers have decided to celebrate the comic actor with free screenings of some of his best-loved films - Groundhog Day, Stripes and Ghostbusters.
Ivan Reitman, who directed Murray in the latter two films, is also going to be on hand to help pay tribute to the star.
All this is leading to the premiere of Murray's latest film, St Vincent, tonight.
The comedy sees the star play a curmudgeonly war veteran who finds himself having to look after his neighbour's 12-year-old son Oliver.
Up to 50 fans who attend all three free screenings will also have the chance to win a ticket to the premiere - what better way to end a day-long Bill Murray fest.
THURSDAY 5 SEPTEMBER 23:30 (04:30 BST FRIDAY)
I managed to snag myself a ticket to one of the public gala screenings of The Judge so had the privilege of watching the film in the resplendent Princess of Wales Theatre.
The film's director David Dobkin - who has previous form directing Owen Wilson comedies Wedding Crashers and Shanghai Knights - came on stage to introduce the film.
He told us he was inspired to write his first drama after his mother passed away in 2006 and he was forced to assess his own relationship with her.
The film is a continual yo-yo of mood changes: one moment intense and emotional, the next witty with sharp dialogue.
A quick look around my immediate area showed a number of teary eyes and snifflers, including the young male teen sitting next to me.
It's not really a courtroom drama, but then I don't think it's meant to be - it's a drama that happens to be partly set in a courtroom.
It's nice to see Robert Downey Jr in a drama again, although the sardonic wit of Hank Palmer has more than a hint of Tony Stark about it. But pairing him with Robert Duvall provides a great watch, if a tad overlong.
On my way out Tiff volunteers were urging patrons to vote for the film if they wanted it to win the People's Choice Award and I saw a good few dropping their ticket stubs in the voting boxes.
We'll have to wait until the 14 September to see the result.
THURSDAY 4 SEPTEMBER 16:30 (21:30 BST)
It would appear TIFF organisers have managed to sneak in another two red carpet premieres today as well as the three I mentioned earlier.
Comedy drama Welcome to Me has just opened with its star Kristen Wiig delighting fans on the red carpet, and Juliette Binoche drama Clouds of Sils Maria will also premiere later tonight after The Judge.
Speaking of The Judge, there was meant to be a press screening earlier at midday, but it was pulled late last night and moved to 18:30 due to "scheduling issues".
Unfortunately there will be almost 1,000 fewer seats at the later screening, so I anticipate a number of grumpy people at the door.
The mood has also changed among the crowds lining the streets upon learning the news Joan Rivers died a couple of hours ago.
I'm sure many stars will be paying tribute to her when they walk the red carpet for the opening gala later.
And I'm sure the comedian would have had plenty to say about what they were wearing in her own inimitable way.
THURSDAY 4 SEPTEMBER 0900 (14:00 BST)
It's a sunny morning in Toronto on the day the festival officially gets underway. The city is truly buzzing now with excitement and it's not just coming from the media.
TIFF is dubbed the People's Festival for a reason - the films being shown aren't just open to the critics and press, members of the public can also buy tickets to watch advance screenings for $24 (£13).
It's a bit of a brain scramble to figure out the crazy schedule as so many film screenings clash with each other.
But if you like the film you see, you can drop your ticket stub in a box or vote online for it to win the top accolade of the festival: The People's Choice award.
And the public has been pretty spot on in recent years in picking a favourite which has gone on to win the best picture Oscar.
It's not only your bog standard screening the public can go to see - they also have the opportunity to rub shoulders with the stars on the red carpet at premieres too.
It won't break the bank for the privilege either as tickets are only $46 (£26).
Speaking of premieres, there are actually another two tonight along with the official opening film, Robert Downey Jr drama The Judge.
Al Pacino's The Humbling, based on Philip Roth's final novel, will also open in another cinema up the road and Mary Kom, an Indian biopic based on the life of the Olympic medal winning boxer, will premiere straight after.
Three premieres in one evening is a quiet night by TIFF's standards though - there are 12 on Saturday!
WEDNESDAY 3 SEPTEMBER 20:00 (01:00 BST THURSDAY)
I have arrived in Toronto and already it is a hive of festival activity.
Official Tiff banners are up, a big stage has been erected and the streets are crawling with media who have swarmed in to collect their press passes en masse - myself included.
There's also been a camera crew on every corner of the block, with local reporters excitedly talking about which stars are set to grace Toronto's streets.
Although it doesn't officially begin until tomorrow, tonight Tiff is hosting a swanky charity gala in honour of Al Pacino to kick things off.
The Oscar-winner will be taking part in an Audience With... type on-stage conversation looking back over his career, followed by a "glamorous cocktail dinatoire" and live auction.
Pacino has two films showing at the festival - The Humbling and Manglehorn, the latter of which has received some positive murmurings from critics so it's a fitting choice of honouree.
Walking past the festival's HQ earlier - in a building called the Lightbox - where the gala is being held, crowds were eagerly looking on as guests arrived in their outrageous stretch Hummer limos.
I suspect I may see a few more of those over the next few days.
WEDNESDAY 3 SEPTEMBER 10:00 UK
The Oscars are almost half a year away but this week sees the start of most of the filmmakers' campaigns for the little gold statuette.
More than 300 movies will be premiering at TIFF, all vying for the attention of not only the critics but also the public, who can buy tickets for all the films too.
But where to start? To help, here's a glimpse of some of the films creating a buzz ahead of the festival.
Tomorrow we'll take a look at the British films and talent hoping for a positive start to their awards season.
Off to jump on a plane now to Ontario - see you on the other side of the Atlantic!