Toronto Film Festival 2014: Reporter's diary - Part 2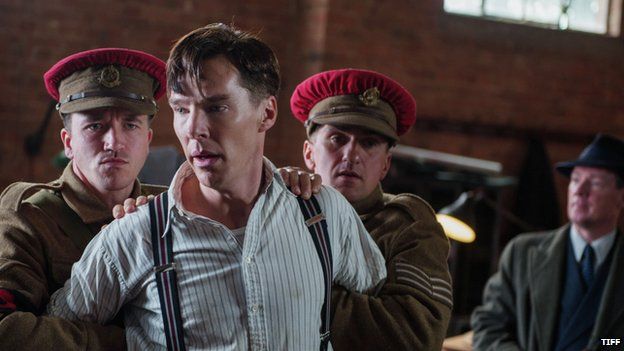 The 39th Toronto International Film Festival is widely considered to be start of the annual film awards season, serving as a high-profile launchpad for movies that have gone on to receive Oscar glory.
This year, Alan Turing biopic The Imitation Game has won the festival's top prize, following in the footsteps of the likes of Slumdog Millionaire, The King's Speech and 12 Years a Slave.
The BBC's Genevieve Hassan has been at the festival to report on the movies, stars and industry heavyweights making waves on the shores of Lake Ontario.
Follow this link to catch up with the diary from the first week of the festival.
MONDAY 15 SEPTEMBER 08:00 (13:00 BST)
So that's it. The red carpets have been rolled up, the barriers put away and the signs taken down.
It's almost as if TIFF never happened here, but it has been a jam-packed 11 days.
The tag line of the event is "It's YOUR film festival", and in essence it really is.
Whether you're one of the 2,800 volunteers, one of the star spotters lining the street at a premiere or a fan voting for their favourite to win the top prize - everyone feels like they're part of the show here.
It's a great festival and I've seen some brilliant films.
There's been many a book adaptation and biopic this year, but for me nothing can top the Stephen Hawking film The Theory of Everything. Eddie Redmayne's performance, together with an emotional score, left me blown away.
I genuinely don't feel like I wasted two hours of my life at any screening. My only disappointment is I wasn't able to squeeze more films in.
I would have loved to have caught Bill Murray's St Vincent, Ben Stiller comic drama While We're Young and Joshua Oppenheimer's Act of Killing sequel. But there just aren't enough hours in a day.
SUNDAY 14 SEPTEMBER 18:30 (23:30 BST)
The awards for this year's festival were dished out at its traditional brunch, held in a downtown hotel.
The movie ticket-buying public have been voting for their favourite film screened at the festival over the past 11 days and now they have spoken - Benedict Cumberbatch's The Imitation Game took the top prize.
As the winner of the award tends to go on to bigger and better things, we'll see if the film can translate it to Oscar glory next year.
I'm pleased the delightful romantic comedy Learning to Drive, starring Sir Ben Kingsley and Patricia Clarkson, was voted first runner-up. I was concerned only older audiences would have been inclined to go see it, but this proves it's a film for everyone.
I was surprised that Stephen Hawking biopic The Theory of Everything didn't even feature in the top three though. I thought Eddie Redmayne was superb in his portrayal of the physicist, but I'm confident he will be well recognised in the upcoming awards' season.
Flight of the Conchords star Jemaine Clement generated the biggest laugh of the ceremony when he collected the People's Choice Midnight Madness prize for his vampire comedy, What We Do in the Shadows.
"I'd like to use this forum to bring attention to a more serious matter - the disgusting sport of vampire hunting that is being practiced all around the world," he joked.
"They are being hunted for their lifestyle choices, for sport and for their culinary preferences.
"We want to name and shame quite prominent people in the film industry who are vampire hunters - we're talking about Sir Anthony Hopkins and Hugh Jackman. We want vampire hunting to stop!"
SUNDAY 14 SEPTEMBER 10:00 (15:00 BST)
Last night saw the festival's closing film, A Little Chaos, premiere. Directed by and also starring Alan Rickman, the Harry Potter actor takes the role of The Sun King, Louis XIV.
Matthias Schoenaerts also stars as the king's landscaper Andre Le Notre, who hires Sabine De Barra (Kate Winslet) to help design one of the gardens of Versailles. A burgeoning relationship develops between the pair as they work together to create Sabine's idea of chaotic beauty while she navigates a man's world.
Set in 1862, it's standard period fare, lush with costumes - but the script feels like it could have done with a bit of pruning.
The film only comes alive when Rickman takes centre stage - and that's not for at least an hour into the film in a brilliant scene where Winslet is unaware she is talking to the king while discussing roses.
Stanley Tucci also puts in a great performance as Louis' dandy brother, although it is only a treat for a handful of scenes.
One of the lesser-known film programmes at the festival is the TIFF Kids section. Only four films squarely aimed at children are on the line-up and I caught one of them earlier this week, Australian movie Paper Planes.
It stars Avatar's Sam Worthington as the recently bereaved dad to a son who represented Australia at the World Paper Plane Championships in Tokyo.
It's a great feel-good family film that had me wanting to fold bits of paper afterwards and chuck them across the room.
I met up with director Robert Connolly and actor Ed Oxenbould, who stars as 11-year-old Dylan, to talk about bringing the film to TIFF.
"I have a great affection for the festival and it has been an amazing launch for my films. Out of all the film festivals in the world it has a really strong kids presence," Connolly said.
"Hollywood cinema for kids is so good with Pixar and Dreamworks, but as an Australian I wanted to make a film where Australian kids are the heroes."
And what was it like to have Sam Worthington play your dad? "It was great and heaps of fun - we really bonded," Oxenbould said.
With the festival drawing to a close, the People's Choice Award for best film is set to be handed out later this afternoon.
I have my sneaking suspicions as to who will win the prize - but stay tuned to find out who the winner is.
SATURDAY 13 SEPTEMBER 23:00 (04:00 BST SUNDAY)
What do John Travolta and Timothy Spall have in common? They both learned to paint for their latest film roles.
Spall has already won plaudits for his portrayal of the British artist JMW Turner in the film re-telling the last 25 years of his life.
I spoke to him before I came out to Toronto about his preparation for the part, which included months of art lessons to be able to emulate Turner's style. By the end of filming, he had recreated a Turner painting which now hangs proudly in his home.
Not that he's a master forger now - Spall says he can't remember how to paint like Turner anymore.
Travolta also had lessons to learn how to replicate a Monet painting for his part in heist drama The Forger which sees him play, you guessed it, a forger - who is forced to copy a masterpiece so the original can be stolen.
Like Spall, the Grease actor recreated the painting used in the film by hand, which is also framed and hung at home. The star proudly showed me a photo on his phone of himself posing with the picture when I met up with him yesterday.
"I went to Hong Kong to study with a famous instructor and then in the US with another gentlemen," he said.
"I wanted to feel what the pressure might feel like to have to paint with a gun pointed at your head - but it took me the whole film to do."
SATURDAY 13 SEPTEMBER 17:00 (22:00 BST)
I've racked up so many hours in a darkened room now I thought it was about time I mentioned some of other films that have screened at the festival over the past week.
This is Where I Leave You
This ensemble comedy drama sees Jane Fonda star as the matriarch of a family featuring Jason Bateman, Tina Fey, Adam Driver and Corey Stoll. After the death of their father, the siblings return home to live under the same roof for a week where they drive each other crazy but we know they love each other really.
Fonda delights in every scene she's in while the rest of the cast deliver nice enough performances. It's a pleasant film to watch, but probably won't win any awards.
Jason Reitman's adaptation of Chad Kultgen's 2011 novel of the same name is probably a bit too scaremongering for parents in this cautionary tale over the perils of using the internet where the message is pretty much "all roads lead to sex".
Online escort services, pornography, dating websites for cheating spouses and sexting are all put into play along with the negative aspects of social media including online bullying and the pressures put on teens in our ever increasing online lives.
Yes, bad things can happen online but this film is too over-the-top in labouring the point.
Sir Ben Kingsley stars as a Sikh New York cab driver and driving instructor in this sweetly funny comic drama based on a 2002 New Yorker essay. Patricia Clarkson appears as the learner driver who, through her bi-weekly lessons, learns to move on with her life after her marriage collapses.
If you're a younger cinema-goer, don't be put off by the age of the cast. It may end up satisfying the "grey pound" crowd but it's a film that will delight all ages - especially anyone who has ever learnt to drive.
Andrew Garfield stars in Ramin Bahrani's recession drama that allows Garfield to flex his dramatic acting muscles much more than his Spider-Man franchise will allow.
He stars as single father Dennis Nash who loses his home after crooked real estate agent Rick Carver (Michael Shannon) comes to collect. Soon Nash is working for the man he despises, carrying out his dirty work in a desperate attempt to get his family home back.
Watching the eviction scenes unfold are tragic to watch, with homeowners left humiliated as all their possessions are emptied out on their front lawns for the world to see. Shannon is excellent as the vulture looking to make a quick buck from the US housing market crash, while he spins out lines such as: "America doesn't bail out losers - America bails out winners."
This French thriller is inspired by the real-life "Lonely Hearts Killers" who shocked America when they killed some 20 people in the 1940s by targeting women in singles ads. Updated for the modern age, it's enough to put you off internet dating as the central characters Gloria and Michel work their way through a series of grisly murders.
The first film adaptation of the story made in 1969 became a cult classic, but I'm not sure this version will be met with the same status. The cinematography is grainy which suits the gritty theme and the performances from Laurent Lucas and Lola Duenas are chilling as the crazed lovers. But one scene that sees Gloria randomly launch into a musical number and then nonchalantly saw a victim's ankle off was laughable.
SATURDAY 13 SEPTEMBER 00:00 (05:00 BST)
If you look at Oscar nominees in recent years, a bit of a pattern emerges.
As an actor, you're likely to receive a nod - and go on to win - if you play a historical character (Daniel Day-Lewis, Colin Firth, Forest Whitaker), someone with a physical illness (Tom Hanks), mental illness (Geoffrey Rush), or lose a lot of weight (Matthew McConaughey).
As an actress it's a bit more varied, but playing a historical or other real-life character certainly helps (Helen Mirren, Julia Roberts, Marion Cotillard, Sandra Bullock).
The other winning ingredient, it would appear, is to not wear make-up in your role - just ask Charlize Theron and Halle Berry.
Obviously stellar performances must be the determining factor, but if you follow the above formula it is probably unsurprising Reese Witherspoon is being touted for Oscar glory in 2015 for her role in Wild.
Based on the best-selling memoir by Cheryl Strayed, Witherspoon ditches the Hollywood glamour to play the author who decides to hike more than 1,000 miles along the Pacific Crest Trail after losing her way following her mother's death.
It is undoubtedly the actress's best performance on screen since winning her Oscar in 2006 as June Carter in Johnny Cash film Walk the Line. She has been stuck in a bit of a rom-com/mediocre role rut ever since and this is the film that has dragged her out.
Directed by Jean-Marc Vallee - who helped Matthew McConaughey and Jared Leto to Oscars last year - the film shows off America's vast and rugged landscape at its best as Witherspoon huffs and puffs along the way while losing toenails on her journey to self discovery.
Flashbacks of Cheryl's life where she abuses drugs and is sexually promiscuous take the actress into territory she's not delved into before which will win points with awards' juries
The winner in the best actor Oscar race is harder to pick out with so many strong male performances from the likes of British actors Eddie Redmayne, Benedict Cumberbatch and Timothy Spall.
But there hasn't been much buzz around the actresses at the festival. Apart from Witherspoon, only Julianne Moore has generated interest from her roles in dramas Still Alice and Maps to the Stars.
Witherspoon puts in a good turn in Wild, but I'm not sure it's a real Oscar-winning performance.
However, in a women's race that currently seems like there just aren't that many runners, she may win.
FRIDAY 12 SEPTEMBER 13:00 (18:00 BST)
Reese Witherspoon may have two films screening here at TIFF, but there are other actors pulling in more than double time to promote their wares.
Adam Sandler has been in town touting no less than three films over the past week - Jason Reitman's drama Men, Women and Children, Chris Rock comedy Top Five and another drama, The Cobbler.
I spoke to him while he was promoting Reitman's cautionary internet tale and was pleasantly surprised by the actor.
I had heard stories from fellow journalists he can be a bit flat during interviews so was preparing myself for a hard time, but he was on top form - a perfect gentlemen even.
When I entered the room, I was instructed to sit on quite possibly the tallest director's chair in the world. A bit of a task when you're struggling to hit 5ft 2ins and tottering around in 4ins heels.
As Sandler came over to greet me I mentioned by surprise at the height of the chair and he took me by the hand and helped me up. When he saw my dangling feet he came back over to help them find the footrest - and when we were done he practically lifted me off the chair.
It was all conducted in a thoroughly comedic way to the delight of the room and he totally won me over.
Sandler's not the only actor with three TIFF films to flog. On top of The Equalizer, Chloe Grace Moretz appears in Keira Knightley romantic comedy Laggies (known as Say When in the UK) and opposite Juliette Binoche as a young actress in Clouds of Sils Maria.
At the press conference for The Equalizer earlier this week, Moretz admitted she 'was overzealous with booking parts" as she felt she wasn't yet in the position to be able to turn things down at the current point in her career.
"I think I still have to fight so hard for parts, I haven't had too many chances [to turn any down]. The parts I have turned down before are just because they're not enough for me emotionally because I want to feel a challenge," she said.
Oscar nominee Anna Kendrick is the third celebrity boasting a triple whammy of films, appearing in Jennifer Aniston drama Cake, Ryan Reynolds' comedy thriller The Voices and a big screen adaptation of the musical The Last Five Years.
Other actors on double duty at TIFF include Julianne Moore (Maps to the Stars, Still Alice) Al Pacino (The Humbling, Manglehorn) Mark Ruffalo (Foxcatcher, Infinitely Polar Bear), Keira Knightley (The Imitation Game, Laggies) and Dustin Hoffman (Boychoir, The Cobbler).
Everyone else obviously must try harder next time.
FRIDAY 12 SEPTEMBER 07:00 (12:00 BST)
As well as the main programme here at TIFF, there's also a short film section with more than 70 shorts being screened.
One of them which caught my eye was Red Alert, made by 10-year-old Canadian redhead Sloan Avrich (with the help of her documentary-maker father Barry), who is distraught after reading on the internet people with red hair may die out within the next century.
It's a sweet, funny film as she interviews fellow redheads about their experiences growing up with the colour of their hair and investigates the science behind the claim.
For a nine-minute short, it packs in a lot of content. As well as a look a the famous redheads on screen such as Julianne Moore, Jessica Chastain, Amy Adams and Tim Minchin, it also touches on the prejudices of society.
Sloan is outraged at Kick a Ginger Day, while the campaign to help cheerlead the red community is also highlighted.
It's a heartwarming tale about accepting who you are, regardless of what you look like.
Another film I saw earlier this week on the theme of acceptance and self-discovery was the documentary film Do I Sound Gay? made by gay journalist and US film-maker David Thorpe.
It deals with Thorpe's anxiety with how "gay" his voice sounds and the vicious homophobia he and others have experienced from the sound of their voices.
In an effort to overcome the stigma he has felt since he was a child, the journalist takes up speech language classes to learn how to sound "straight".
Thorpe also examines how popular culture has influenced his self-confidence and seeks out linguists to uncover if there is such a thing as a "gay voice".
With appearances from the likes of Star Trek actor George Takei and author David Sedaris on their own experiences, the film is oftentimes funny while dealing with a serious issue as Thorpe travels on his journey of empowerment.
It's always difficult for documentary films to make much of a splash in cinemas among the money-making blockbusters, but do try and catch it when it is released on demand.
THURSDAY 11 SEPTEMBER 23:00 (04:00 BST FRIDAY)
I finally managed to catch the big screen update of 1980s TV series The Equalizer, with Denzel Washington in the role made famous by Edward Woodward.
I saw the film in an Imax screen with a sound mix so shockingly muffled it felt like I was standing outside the room.
But sound issues aside, the film is a full throttle, bloodthirsty action romp which sees Washington reunite with Antoine Fuqua, who directed the actor to his Oscar-winning performance in the 2001 film Training Day.
The similarities to the original TV series pretty much starts with the title of the movie and end with the premise he's a retired government agent who uses his super skills to help those in trouble (can anyone say Liam Neeson in Taken?).
Fuqua's Equalizer is set in Boston not New York, with Robert McCall a widower with no children who rides the bus instead of cruising around in a Jaguar.
After faking his own death to get out of his former employment, he settles into a new quiet life working in a DIY store. When he is compelled to help a young prostitute (played by Chloe Grace Moretz) after she is beaten up by her Russian pimps, it sets off a chain of events which leads him further into the criminal underworld.
It's pretty handy he works in a hardware store then, where he can find all the tools he needs to deal out his own style of vengeance.
The fight scenes are pretty brutal and if you have an aversion to corkscrews, nail guns and power drills being used to inflict maximum damage you'll probably want to look away.
But overall the film feels a tad overlong and sometimes the scenes are cut so quickly you miss what's happening. It all seems to set up the possibility of a franchise, with McCall eventually advertising his services - this time online instead of the newspaper classified section.
If it's a box office hit I expect there'll be an Equalizer 2 in cinemas soon.
THURSDAY 11 SEPTEMBER 13:00 (18:00 BST)
There was a bit of a Reese Witherspoon love-fest a couple of days ago when the Oscar-winning actress was in town to promote not one, but two films.
I've just watched one of them - The Good Lie - which sees Witherspoon star as a Kansas City woman who takes four Sudanese refugees under her wing after they flee the conflict in their home country.
Although the actress may headline the film, her total screen time probably runs to about half an hour. This movie totally belongs to the four refugees at the centre of the story.
At a press conference earlier this week Witherspoon said it was one of the reasons why she took on the role.
"I've never had a director say this to me. He goes, 'I really like you and I respect you, Reese. But this movie has nothing to do with you'. It's all about the Sudanese people and I love that," she said.
The first part of the film follows a group of siblings who walk some 800 miles from Sudan to Kenya to escape the slaughter in their village. Along the way they encounter murder and death, doing whatever is necessary to survive - including sacrificing themselves.
They are finally granted asylum in the US 13 years later where they meet Witherspoon's character, brought in to help them find jobs.
There's a bit of Crocodile Dundee-style humour in depicting the new arrivals' first experiences outside of their home country and the clash of cultures: experiencing an escalator for the first time, being introduced to McDonalds, not knowing what a telephone is.
But they're also mixed with more poignant moments to reflect how much we take for granted in modern society - running water from a tap, electricity at the flick of a switch, throwing away food past its use-by date.
The performances of the actors in the film are made even more authentic given some fled Sudan themselves, with two - Ger Duany and Emmanuel Jal - both child soldiers during the civil war.
The family of Ugandan-born British actor Arnold Oceng - who starred in Kidulthood and a one-time Grange Hill star - also came to London as refugees.
It's powerful stuff that tugs on the heart strings - there were a lot of sniffles from the people around me.
I bumped into the film's screenwriter Margaret Nagle a couple of days ago, who told me she researched the story of the Lost Boys and Girls of Sudan extensively and it took her a long time to get the film off the ground as it was a difficult sell to Hollywood.
"It took me 11 years - it was very hard. I was told 'they don't want the script, it can't be made, it's about Sudan and no one wants to see it'," she said.
I, for one, was certainly glad to see it and hope others do also. Stick around for the credits too just to hear a couple of great uplifting songs by Jal - a successful musician in his own right.
I'll be seeing Witherspoon's second TIFF film tomorrow - Wild - which some suggest could see the actress Oscar nominated for the role.
THURSDAY 11 SEPTEMBER 06:00 (11:00 BST)
A film I had been quite looking forward to watching while here at TIFF was a drama called Maggie - a zombie drama starring Arnold Schwarzenegger.
That's right - drama and zombies and Arnie. Never have these paths crossed before so I was curious as to how it would turn out.
The film sees the Terminator star play a farmer who lovingly cares for his daughter (played by Abigail Breslin) after she becomes infected by a plague that slowly makes its victims crave human flesh.
Unfortunately the film was pulled from the festival just days before it was due to begin after Lionsgate bought distribution rights and decided to hold it back until 2015.
It was one of dozens of films set for their world premiere at TIFF - not to be confused with an international premiere.
What's the difference? I didn't know either so I asked a festival organiser.
A world premiere is just that: it's not been seen anywhere in the world until opening night. An international premiere is where the film has only been screened in its country of origin before the festival.
WEDNESDAY 10 SEPTEMBER 22:00 (03:00 BST)
The great thing I've found about Canadian cinema audiences is they get really invested in the film they're watching.
If a joke is funny, people laugh - really funny, they clap. If there's a twist and a shock, they gasp and cover their mouths; someone gets punched, they flinch as if they've taken the actual slug. And when a bad guy gets shot in the face, they cheer and applaud.
It's a full-body cinema appreciation.
Maybe we're just a bit too stiff-upper-lip in the UK to be as expressive, but over here you really feel like you're sharing an experience.
One film that provoked quite a reaction from its audience was Ethan Hawke's topical drama Good Kill.
The actor stars as a fighter pilot turned drone pilot, who fights the Taliban via remote control from a base in Las Vegas during the day and then goes home to his family in the suburbs at night.
With the current military drone policy of the US a hot topic, the film sees Hawke's character start to question his mission and orders from the government.
A lot of the film is from the perspective of the drone's camera as it repeatedly strikes buildings housing suspected militants or terrorist activity. But with the missiles taking eight to 10 seconds to reach their target, the suspense created is palpable - forcing the viewer to anticipate the devastation and resulting loss of life in real time.
Children who inadvertently walked into the cross-hairs prompted verbal shock from the people around me. An order to bomb a funeral led to gasps and a woman who was repeatedly brutally attacked made the person sitting next to me react physically to the pain.
Hawke puts in a strong performance as the buttoned-up drone pilot, struggling with his conscience in a series of close-up head shots.
The film's intention is clearly to spark debate about the use of unmanned drones, but it offers both sides of the argument through a little too much plot exposition and a cliched pilot who believes in protecting America from the bad guys.
But as the first mainstream film to address the issue, it does its job in questioning the morality of modern warfare.
WEDNESDAY 10 SEPTEMBER 12:00 (17:00 BST)
I was pleasantly surprised to get an email telling me I could have 20 minutes with JK Simmons and Miles Teller - the brilliant stars of musical drama Whiplash.
We were treated to one of Simmons' trademark "stop playing" hand gestures he uses in a scene which, I'm sure, will be one of the most talked about in the film.
The pair have great banter in person and it's clear they have a mutual respect for each other.
The night before, Teller was awarded IMDB's Starmeter prize, given to the actor most talked about and searched for on the movie website.
I went along to the presentation of the award where the actor thanked IMDB for "showing me with a small number how relevant I am".
"I hope my Starmeter continues to fill up - because if it's not up it's down," he joked.
What I thought was great was that, when he posed for photos after, not only had he brought his parents along, but also his grandparents.
During the chat I had with him, Teller talked about the importance of having a good work life balance and how important family was to him.
I asked him if that was why he brought everyone to the IMDB presentation.
"I try to bring them to as much as I can," he said.
"As a 27-year old guy would I like to be at these parties alone and not have my grandma and grandpa and parents behind me? It means a lot to them and they're very supportive."
What a thoroughly nice chap.
There will be more from the interview nearer to the UK release date of the film in January so watch this space.
Related Internet Links
The BBC is not responsible for the content of external sites.