Reece Shearsmith: A man of many faces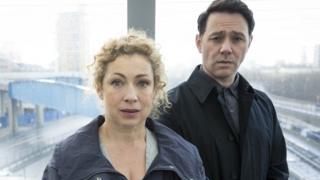 Actor Reece Shearsmith takes the lead role in the new four-part ITV drama Chasing Shadows - set in a missing persons field unit that hunts serial killers who prey on the vulnerable.
Shearsmith found fame, alongside Steve Pemberton and Mark Gatiss, as one-third of the comedy troupe the League of Gentlemen - whose BBC Two series about the bizarre misfit inhabitants of the fictional town of Royston Vasey ran for three series.
People have got very excited about comments you made suggesting the League of Gentlemen were planning something for the 20th anniversary.
Yes, we were asked about it at the Edinburgh International Television Festival. There is nothing planned. It would require us to say: "We really are going to do it and on this start date." That's as far as it's gone really, we're not really in talks to do something.
You're like the comedy versions of Led Zeppelin, people want to know when the reunion will happen.
It's weird isn't it? Maybe I'm not the best person to speak to being in it, but my recollection of the league is that it was very fondly liked by some. It was really cultish but not ever breaking through with taxi drivers talking about it and everyone knowing it.
I always felt that it was quite elitist, a strong flavour that not everyone loved or loathed. But with time it's created some kind of mythical "it was really really good" thing. But I didn't think it was that good at the time. The way that it's talked about now, it's a bit enshrined.
There's a new generation of younger teenagers whose older brothers and sisters will have shown the programme to them.
Definitely younger people are coming to it through new means. Young people watch it and go: "Look at [Gatiss as] Mycroft [Holmes in BBC drama Sherlock] in a dress." They're looking at Mark and discovering this mad thing that he did before Sherlock, so that's great because it's kept alive.
Steve and I still do things like Inside Number Nine and Psychoville and that keeps it going, it's lovely it's not gone away and it still stands up.
The world we created, it doesn't feel like it's dated, it still feels all right as a comedy, it feels quite timeless so I'm proud of it.
It must be very difficult to get you in the room together because you're all so busy.
The logistics are such that we really have to say: "Right from this date, this is the thing we're doing," not: "Oh, we must do something."
We broke up after the end of the pantomime we did in 2003, it wasn't like we said: "Oh, we're finished." It was more like: "Let's have a break," and that break has been 15 years,
If we do something again, we have to be aware of not spoiling it because it would have to be really good. That's the other thing, what would it be? It probably wouldn't be Royston Vasey, that's what I would say to people, it would probably be a new thing.
And now you're getting starring roles in ITV dramas such as The Widower and Chasing Shadows.
One of the lovely things about starting the league is that there was no master plan, like: "If we do a sketch show on stage, then we'll get a radio series and then a TV series and then we will all be known as actors in our own right."
It was great to get [the role of] Malcolm Webster [in The Widower], and ITV could easily have gone through the process of getting a name or a bigger face than me. I'm still quite anonymous, so it was lovely to get the part for the right reasons because they felt I was right for it, and so I felt very comfortable doing it.
Throughout your career you've been drawn to the macabre and the dark side, and now with the obsessive Det Sgt Stone. He is quite an unusual individual.
I worried whether he was going to be an amalgam of tics and not be believable, but I hope that through the four episodes, if you stick with it, that you do get a sense of him as a real person, not just: "Oh this is a new ITV detective and his thing is..." So, it was important to get a truth to it.
It's quite risky portraying mental health issues on screen. There's a suggestion the character may have a form of autism, is that ever made explicit?
Not really, it was extracted from the script, it was not needed in the end. But it was my job to go: "What are the traits of someone on the spectrum and how far along he is?" I was given lots of evaluations of people who have it as a condition and how extreme it can get. It seemed to be that everyone has it, people with hobbies have got a mild form of it.
I saw lists of things, if you are on the scale of autism, you can become obsessed with, and basically it can be anything. It was tricky, I didn't want to do [Dustin Hoffman, who played an autistic savant in the film] Rain Man, or be obvious or a caricature. Hopefully, it's subtle.
It's been said that we're in a golden age of television right now, particularly ITV drama, which is going from strength to strength, do you agree?
I think TV commissioners are discovering that people will stay with a thing, that longer-formatted things work and the box set is king. It's maybe different the way that people consume it, whether on box set or by recording it and watching them all one after the other. I think people enjoy a good story.
There is good writing, writing is everything, without it you've got nothing and its great it's being recognised. I was in Paris and I got a text from Mark saying: "We've just won seven Emmys." Amazing, it's just fantastic. And so well deserved. It's an example of people owning a show, as fans of it and writing for themselves.
You did A Field in England with Ben Wheatley and his wife Amy Jump and you're working with him again.
Yes, back in his world again on an adaptation of the JG Ballard novel High Rise, They've tried to make films of it before, but Amy's done a great script. I've been in and out of Belfast playing a dentist. All my scenes are with Tom Hiddleston. I don't think anyone films violence the way Ben films violence, it's really horrible. It's a descent into hell in Belfast in the 1970s.
Ben must have been a fan of the league
Yes, he said: "Nothing has frightened me more than you as Papa Lazarou," which was flattering.
You're the father of two young children, have they seen anything you're in?
No, they haven't seen any of it. They saw me, Mark and Steve do some sketches for Horrible Histories because they can watch that. I was cool in the playground when that came out. But they've got it all stacked up, ready to watch it and be appalled. When they're about 30, I think I'll let them watch it.
Do you still have Papa Lazarou's costume?
I do have it, the top hat is upstairs in the attic but I've not worn it for a few years.
Chasing Shadows starts on ITV on 4 September at 21:00.