Joan Rivers out of intensive care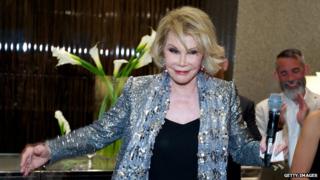 Comedian and TV host Joan Rivers has been moved out of intensive care and is "being kept comfortable" in a private room in hospital.
Rivers, 81, had been on life support in Mount Sinai hospital since having a cardiac arrest in New York last week.
The comedian stopped breathing during a procedure on her vocal cords at an outpatient clinic last Thursday.
Her daughter, Melissa Rivers, gave a statement confirming the improvement in her mother's health on Wednesday.
"My mother has been moved out of intensive care and into a private room," said the statement from Melissa. "Thank you for your continued support."
Joan Rivers had been on life support for almost a week. No further information has been given regarding her current medical condition and prognosis.
Life support usually involves a ventilator to help with breathing and helps keep a patients vital organs such as the brain, heart, lungs, liver and kidneys working.
Rivers' representatives has dismissed reports that her family has plans to sue the endoscopy clinic where she was treated.
The actress and stand-up comedian is well known for her acerbic wit and has more recently turned it on the red carpet's worst dressed celebrities, hosting the E! network's Fashion Police.
Both Rivers and her daughter have appeared together in reality TV show Joan & Melissa: Joan Knows Best?