Taylor Wessing Portrait Prize shortlist revealed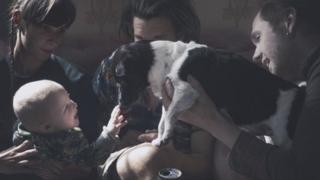 Four photographers have been shortlisted for the Taylor Wessing Portrait Prize, with the winner to receive £12,000.
The shortlist was whittled down by a panel of judges from more than 4,000 submissions,
The winner will be announced on 11 November, ahead of the exhibition at the National Portrait Gallery.
While the competition was open to everyone, all those on the shortlist are professional photographers.
London-based freelance fashion and advertising photographer David Titlow submitted a picture of his son, Konrad Lars Hastings Titlow, being introduced to a dog after a party in Rataryd in Sweden.
"Everyone was a bit hazy from the previous day's excess - my girlfriend passed our son to the subdued revellers on the sofa - the composition and back light was so perfect that I had to capture the moment," said Titlow.
Jessice Fulford-Dobson, who has worked for Vogue and the Telegraph Magazine, has been shortlisted for Skate Girls from her series Skate Girls of Kabul.
The girls have been taking part in Skateistan, which started out using skateboarding to bring young people in Afghanistan together, but has grown into an NGO providing education and leadership skills.
Fulford-Dobson said: "With the Skate Girls of Kabul portraits, I wanted to show these young Afghan girls with their skateboards within the liberating environment that Skateistan provides for them.
"It is here that for a few hours a week they are able to have some semblance of a childhood in a place that is detached from the war and their working life on the streets.
"Like so many other girls across the world, when given the chance to do something positive that they love, each starts to discover their own identity and strength, their own distinctive style and personality."
Estonian Birgit Puve worked on a series called Double Matters for a photography book on twins and triplets. She took the photograph of nine-year-old twins, Braian and Ryan, at their great-grandmother's house outside Tallinn.
London-based Blerim Racaj has drawn on his Kosovan heritage for much of his portfolio. Indecisive Moments is taken from a recent series about young people and the high levels of unemployment they face.