Toronto Film Festival opens with Robert Downey Jr film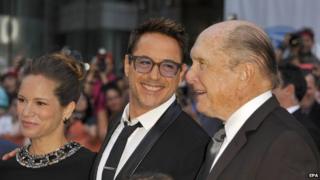 Robert Downey Jr drama The Judge has opened the 39th Toronto International Film Festival in Canada.
The actor took to the red carpet along with co-stars including Robert Duvall and Vera Farmiga at the gala premiere at the city's Roy Thompson Hall.
The film sees Downey Jr star as a successful Chicago lawyer who returns to his Indiana hometown to defend his estranged father on a murder charge.
Some 300 films will be screened at the festival over the next 11 days.
The Judge is a return to drama for Downey Jr, who has spent recent years playing both the comic book hero Iron Man and Sherlock Holmes.
'About a dad'
It is directed by David Dobkin, who is better known for directing comedies such as Wedding Crashers, Shanghai Knights and The Change-Up.
Introducing the film on stage, Downey Jr praised Duvall's performance as his on-screen father, the local town's judge.
"A movie is only as good as the title character - unfortunately, I am not the judge," he said.
"This movie is about judgment, about family, about reconciliation and salvation.
"But it's really about a dad. And the dad has to be a mountain that [my character] has to find a way to climb."
Duvall was met with an extended standing ovation from the audience when he appeared on stage.
Early reviews of the film praised both Downey Jr and Duvall, but were lukewarm overall.
"Downey and Duvall do what they can to lift this overlong family and legal melodrama," the Hollywood Reporter said.
Variety added: "Refreshing as it is to see Downey step out of the Iron Man suit for a spell, the jury's still out on whether an impressive talent roster can draw enough grown-up eyeballs to this overlong, resolutely old-fashioned male weepie."
Al Pacino film The Humbling - based on Philip Roth's final novel - also received its premiere on Thursday.
The Oscar winner was honoured at the festival's charity gala on Wednesday night, with a Q&A looking back over his career.
King Street, on which the festival's main headquarters is situated, has been closed to traffic and streetcars to enable the public to get closer to the red carpet action.
Film fans will be hoping to get a glimpse of stars including Julianne Moore, Steve Carell, Reese Witherspoon, Jake Gyllenhaal, Bill Murray and Tina Fey who are all in town to promote their latest projects.
British actors also expected to visit include Keira Knightley, Benedict Cumberbatch, Timothy Spall, Eddie Redmayne and Kate Winslet.
Other films set to premiere include a big-screen version of the 1980s TV series The Equalizer starring Denzel Washington, Alan Turing movie The Imitation Game and Stephen Hawking biopic The Theory of Everything.