Sir Terry Pratchett and Neil Gaiman novel Good Omens set for radio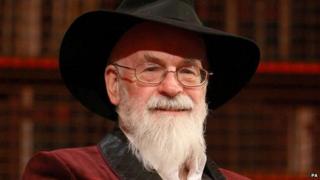 Armageddon tale Good Omens, written by Sir Terry Pratchett and Neil Gaiman, is set to be adapted for radio for the first time.
The six-part drama, which will star Mark Heap and Peter Serafinowicz, will air on BBC Radio 4 in December.
The story, published in 1990, sees an angel and demon join forces to try and stop the end of the world coming about.
Radio 4 controller Gwyneth Williams said the dramatisation would be "a splendid Christmas treat".
Last year, Gaiman's novel Neverwhere made its first foray into radio after adaptations for television, the stage and a comic book.
Its radio outing starred Benedict Cumberbatch and James McAvoy, and was directed and adapted by Dirk Maggs - who will be responsible for bringing Good Omens to life.
The play will be broadcast in five parts across one week, culminating in an hour-long finale on Saturday. The precise transmission dates have yet to be announced.
Gaiman's other novels include American Gods and Stardust. He also penned an episode for the 50th anniversary of Doctor Who.
Sir Terry Pratchett is best known for his Discworld fantasy series, with the first outing published in 1983.
While Sir Terry has said that he did the majority of the physical writing on Good Omen, the two writers spoke on the telephone every day to brainstorm ideas for the work.