BBC News investigated over passport image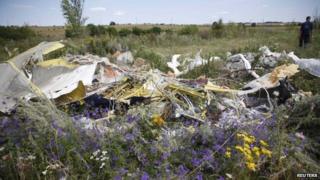 Media watchdog Ofcom are investigating a BBC News report which showed the passport of one of the passengers on flight MH17 which crashed in Ukraine.
Ofcom confirmed they had received one complaint about the coverage, which was shown on the BBC News channel at about 17.40GMT on 17 July.
The Malaysia Airlines flight from Amsterdam was shot down earlier that day.
The still image clearly showed the photograph page of a woman's passport.
It was seen on screen for about six seconds.
At the time of the coverage, the BBC said in a statement: "In fast-moving coverage of the breaking news story a picture of a passport was briefly shown. We quickly realised and moved to ensure it was not shown again. We apologise for any distress caused."
Renewed investigation
The plane was shot down near the village of Grabove in rebel-held territory close to the border with Russia. A total of 298 people were killed including 80 children. Western nations said the plane was hit by a Russian-supplied SA-11 missile fired by rebels.
Russia has blamed Ukrainian government forces.
The search has been suspended since early August due to heavy fighting in the area, but with a new ceasefire in place, the investigation is due to re-start.
Ofcom will rule on whether the BBC is in breach of any of its codes or regulations at a later date.
The watchdog is still investigating a Sky News report from the MH17 plane crash site that drew more than 200 complaints.
Live footage from Ukraine, broadcast on 20 July, showed reporter Colin Brazier pluck items from an open suitcase.
He dropped them back into the luggage saying "we shouldn't really be doing this I suppose, really".
A Sky News spokesperson said the channel and Mr Brazier "apologise profusely for any offence caused".