Sir David Attenborough returns to Great Barrier Reef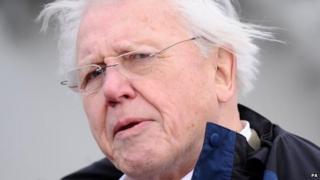 Sir David Attenborough is returning to the Great Barrier Reef for a new series on BBC One.
Sir David first filmed on the Great Barrier Reef in 1957, and has retained a passionate interest in its diverse wildlife and eco-system.
The TV naturalist hailed the reef's "astounding and unforgettable beauty".
"I'm very excited to be returning with all the latest technology and science to see one of the most important places on the planet in a whole new way."
Sir David has often said it is the place he most wanted to return to.
Dubbed "the rainforest of the ocean", the Great Barrier Reef has unique status as the world's largest living organism.
"People say to me, 'what was the most magical thing you ever saw in your life?'…and I always say without a word of exaggeration, 'the first time I was lucky enough to scuba dive on the Great Barrier Reef'," said Sir David.
"As I entered the water I remember suddenly seeing these amazing multi-coloured species living in communities... just astounding and unforgettable beauty."
David Attenborough's Great Barrier Reef marks Sir David's 10th project with Atlantic Productions, the team behind the triple Emmy award-winning series, David Attenborough's First Life.
Producer Anthony Geffen said the series would be "capturing the Reef using super-high speed cameras, new macro lenses, time-lapse and many other techniques to reveal and visualise the Reef in completely new ways".
The revolutionary lenses will film the reef's tiniest, normally unseen, life-forms amid the 2,300km expanse of living coral.
BBC One controller Charlotte Moore called it "an exciting visual treat".
"Viewers will see the Great Barrier Reef as we've never seen it before," she added.