George Clooney to appear in Downton Abbey sketch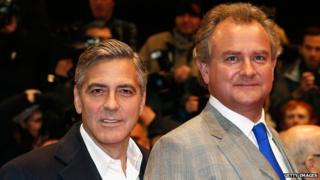 George Clooney is to appear in Downton Abbey in a specially filmed sketch for the ITV charity show Text Santa.
ITV are not revealing any more details about the sketch which will air at Christmas.
Hugh Bonneville, who plays the Earl of Grantham, became friends with Clooney when he appeared in his film The Monuments Men.
Clooney and co-star Matt Damon admitted they were fans of Downton Abbey at the UK premiere in February.
But Clooney said he didn't think he would be right to appear in the show, telling The Sun "I am too lowly for a part, I don't think they want me.
"I can't do the accent either. It's all very Dick Van Dyke."
In May it was reported that Clooney had taken his fiancee Amal Alamuddin to Highclere Castle in Hampshire, where Downton Abbey is filmed, leading to speculation they were viewing it as a possible wedding venue.
But now it appears that is when he filmed the sketch for the ITV charity.
Series five of Downton Abbey starts on ITV on 21 September at 2100 BST.