In pictures: Richard Kiel
Actor Richard Kiel has died at the age of 74. The man of giantesque stature was best known for his iconic role of Jaws in the Bond movies.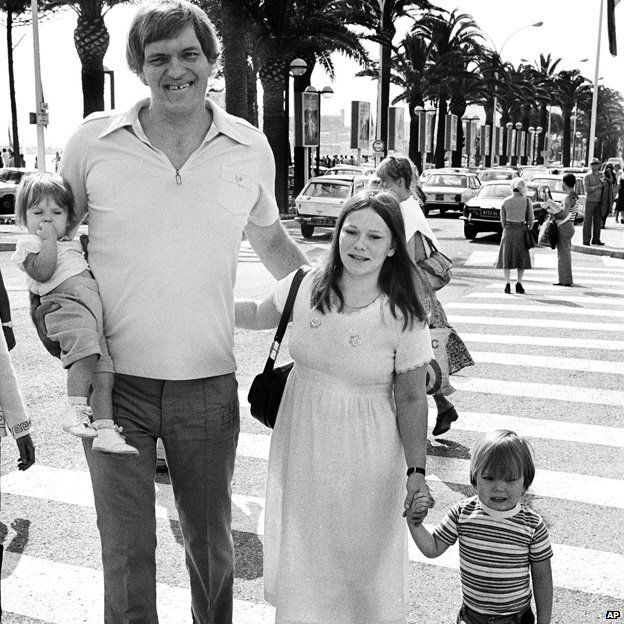 Despite his remarkable height, colleagues dubbed Kiel "a gentle giant". The actor had four children with his second wife, Diane, pictured here at the Cannes Film Festival in 1978 with son Richard and baby daughter Jennifer.
Kiel's iconic turn as Jaws in the 1977 Bond film The Spy Who Loved Me secured his place in the pantheon of movies' most memorable villains. In fact, producers were so impressed by his performance that they altered the screenplay so Jaws survived and was able to return two years later in Moonraker.
Kiel reprised the role of Jaws in the 1979 film Moonraker. The film culminated with Jaws changing sides and joining forces with Bond to save the world. It also saw romance blossom between Jaws and Dolly, a small, pig-tailed blonde with braces, comically played by Blanch Ravalec.
Kiel joined fellow Bond baddies, Sir Christopher Lee, Rick Yune and Toby Stephens, at a Bafta tribute to the Bond films in 2002. He reportedly said: "It is always more fun to play a bad guy than to be yourself as you can create a character unlike your own and be someone you are not for a change."
Kiel had been in frail health for some years, following a serious car accident in the early nineties which affected his balance. He regularly used a walking stick or a mobility scooter, but retained an upbeat disposition.
Richard Kiel was reunited with former Bond girls Britt Ekland (The Man with the Golden Gun), Tania Mallet (Goldfinger) and Eunice Gayson (From Russia With Love) in London for the 50th anniversary celebrations of the Bond franchise in 2012.
Sir Roger Moore and Kiel were last together just a week ago, when they recorded the BBC Radio 4 show The Reunion, with Britt Ekland. Sir Roger said he was "totally distraught to learn of my dear friend Richard Kiel's passing". The pair will forever be linked in the minds of 1970s film-goers - with Moore's Bond squaring up to Kiel's steel-toothed villain.