Cerys Matthews: Radio host, Renaissance woman, axe thrower
By Ian Youngs
Arts reporter, BBC News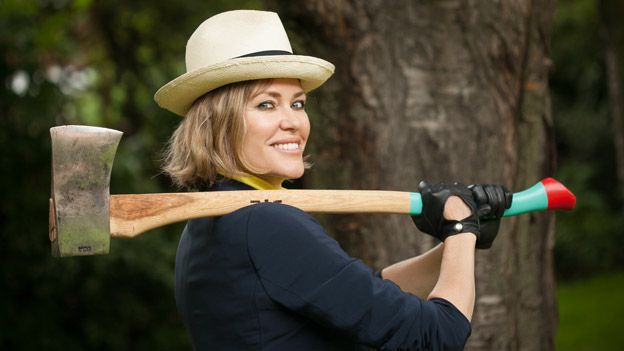 Former Catatonia singer and I'm A Celebrity contestant Cerys Matthews has reinvented herself as an award-winning radio host and Renaissance woman, and was rewarded with an MBE for services to music in June. Now she is staging her own festival.
Few music festivals would be brave enough to promise on their websites: "Axe throwing for everyone."
That, as well as rabbit-skinning, foraging, rope-making, a Bulgarian choir, a Balkan band, poets and "more Welsh artisan beers in one place than we think has ever happened before", is what Matthews is laying on.
While most boutique festivals dangle the prospect of flushing loos and luxury yurts in front of middle-class music fans, Matthews wants the crowd at her Good Life Experience to get back to nature as they listen to some fairtrade bands.
The question is - how will axe throwing mix with artisan Welsh beers?
"Well, we've got insurance," Matthews replies with a nervous laugh. "I was worried about the insurance, but we've got it."
Hopefully they will not need to use it.
Survival skills and self-sufficiency are key themes at The Good Life Experience (yes, the name is inspired by the 1970s sitcom), which takes place in Flintshire, North Wales, on Saturday.
Matthews says: "The older I get, the more passionate I am about putting a balance back in our lives.
"We can put the gadgets away for a minute so newer generations don't forget how to do basic enjoyable things like lighting fires and cooking on them and catching your rabbits, skinning them and eating them, and all those things I've always enjoyed all my life.
"I would not want to get rid of the stuff you can access on your computer and smartphones - I'm as much of an addict as everybody else.
"But what springs to mind is that old physics equation - to every action, there is an equal and opposite reaction. To me, that means I want to get my hands dirty and do something physical."
The festival is the latest venture for a cultural polymath who has come a long way since finding fame fronting Catatonia, with whom she had hits like Road Rage and Mulder and Scully in the late 1990s.
As she puts it: "I've done so much more in the last five years, from having a best-selling book to having a Sony Award for my radio show to reading poetry for the Prince of Wales, the St David Award, this year I got the MBE - so why not do something completely different again?"
She forgot to mention being a "cultural reporter" on BBC One's The One Show, presenting TV and radio documentaries, judging the Dylan Thomas and Forward literary prizes, being patron of the Dylan Thomas Society and Ballet Cymru, being vice president of homeless charity Shelter Cymru and the Hay Festival ,as well as releasing solo albums.
Much of this has come on the back of the success of her Sunday morning BBC 6 Music radio show, which began in 2010 and which has been an ideal outlet for her eclectic tastes as well as her warm and melodic presentational style.
A recent, fairly typical playlist for Cerys on 6 went from Stan Tracey's jazz quartet to Ghanaian group Osibisa to Argentine pianist Lalo Schifrin to soul greats Booker T & The MGs.
"My main premise for the programming of my show - which I do completely on my own, I choose every guest and every feature and every song - is, it's a Sunday morning show and I want people to wake up and I want them to feel good."
The turning point in her career came when Catatonia split up in 2001 and she moved to Tennessee for six years, immersing herself in the sounds of the south.
"I had started collecting traditional songs as a child, and when I was in the band that got pushed to the side," she explains.
"As soon as I was free from all the restrictions of an itinerary and a band, I could carry on where I'd finished off.
"I had thankfully made money with Catatonia and I was able to go and explore my real interest, which was the history of songs, and particularly early jazz and blues music."
She did I'm A Celebrity in 2007 "because it was offered to me and I thought it would be funny, and it was".
She continues: "It also allowed me to raise £50,000 for my charity, Welsh Shelter, and also start my own record label. You can say what you want about it, but for me it made sense at the time.
"Pretty soon after that, on that wave of, call it shallow celebrity, I met the BBC 6 Music editor, talking to him about my record collection, which was by now ridiculous, having spent six years looking through record shops in tiny towns around the world.
"I said, 'I've got the best record collection that I know'. He said, 'Well, put your money where your mouth is and come and fill in for Stephen Merchant and see if you have'. And that was in 2008."
That led to her regular slot, and she has not looked back.
The phrase The Good Life Experience may refer to the activities at the festival, but it could equally be applied to the career of its founder.
The Good Life Experience takes place at Hawarden Estate Farm, Hawarden, Flintshire, on Saturday.
Related Internet Links
The BBC is not responsible for the content of external sites.