Cillian Murphy returns to Peaky Blinders on BBC Two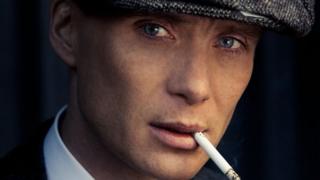 Hit period crime drama Peaky Blinders is returning to the BBC and sees the Shelby family attempt to expand their criminal empire south, from their home in Birmingham to London.
Irish actor Cillian Murphy plays the gangster family's conflicted leader Tommy in the drama, set in the years between WW1 and WW2.
The new series also sees Noah Taylor and Tom Hardy added to the cast.
Murphy is also starring on stage at the National Theatre in London and will soon be seen in Ron Howard's next movie Heart of the Sea.
The first show was well received by audiences and critics, what was the key to its success?
I think it was quite unique in terms of television, it wasn't set in London for starters, it was set in the midlands. It's a show about Birmingham, it's about the working class, it's a show between the wars, which we don't often talk about, and it was quite stylised, quite heightened like a Western so I think all of those things were quite refreshing to audiences. What sets it apart though, is the writing which is fantastic from Steve Knight. I think he's one of the most exciting writers in Britain at the moment, he's a real talent.
People are obsessed with this time period just now, Peaky Blinders is a bit like the anti-Downton Abbey.
I guess the shadow of WW1 looms quite large over the show, in that it's about these men who had been demobbed and spat back into society. I guess it speaks of modern conflicts and how soldiers come back from that as well. But it is very much in the collective psyche on the centenary of WW1
And, of course, people love to root for anti-heroes like the Shelby family.
I think people love that, I certainly do because you think, 'I don't necessarily agree with your actions but you're a very compelling protagonist'. Tommy's aims are not ignoble but I think that his means of achieving them might be.
It's quite a physical role, were those fight scenes hard to master?
I'm a wimp so it was great for me to play a street fighting man, a guy who can look after himself. It involved going to the gym a lot and being... you know those guys who just carry themselves a certain way, so I enjoyed that aspect of it. I loved doing all the fight scenes, it was a lot of fun.
Alongside Sam Neill returning as Tommy's nemesis, Chief Inspector Chester Campbell, there are some new antagonists this series, including Tom Hardy. Will you lock horns with him?
I think it's inevitable that our characters will clash at some point over the show. I think it's a tribute to the show that actors of that calibre are willing to come in and play roles, so it was great to have actors like that to knock about with.
Ratings are all-important to a lot of people and even good shows will live or die by them. Do you take notice as an actor and worry whether Peaky Blinders can sustain a n audience to take it to a third series?
I can't think about stuff like that, it's really not within my job remit to do that. I've got to do the best that I can and hope the fans that are out there and enjoy it now will be joined by new fans. What I do know is that Steve has a lot more stories in his brain and there are a lot more stories to tell with these characters, so I hope we get the opportunity to do it again.
One of your first roles was starring in Enda Walsh's play Disco Pigs, now you're back on stage at the National Theatre, starring in his new play Ballyturk. Is it a pleasure to be working with him again?
Always, he's an old friend. I started acting with him almost 20 years ago now. It's always a joy, we get on very well and we have very similar tastes in work and I feel very lucky.
Many actors such as Dame Helen Mirren, Julie Walters and, more recently, David Morrissey have voiced concerns that young people from low income backgrounds are being squeezed out of the acting profession. Would you like to be starting out again?
It's quite terrifying, the cost of going to drama school. I didn't go just because it happened a different way for me. But making it now, or getting to the point where you can actually make a living from being an actor, it's tough. Especially somewhere like London, it's a dog eat dog world and you've really got to fight your corner. I don't know what the solution is, I wish I did. There are scholarships and bursaries and that should be encouraged because you need actors and artists from every corner of life.
We'll see you in Ron Howard's next film In the Heart of the Sea, based on the 1820 sinking of a whaleship - which inspired the book Moby Dick. Was that fun?
I've loved Ron Howard's films since childhood and this is a proper old-fashioned yarn about men and a whale and the elements. It's a brilliant script and visually it should be sumptuous. It's a not a movie that's going to be a franchise, there are no aliens, it's a standalone old-fashioned movie, which is rare these days
There was a lot of filming on water, do you have sea legs?
In my family, I have a lot of sailors all the way back, we did a family tree recently. So, I didn't get sick, my stomach was hard, I was tough.
Peaky Blinders returns to BBC Two on 2 October.
Ballyturk is on at the National Theatre until 11 October.