Iggy Pop to give John Peel Lecture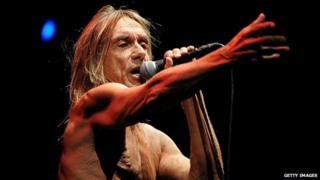 Rock legend Iggy Pop is to deliver this year's John Peel Lecture.
The singer, regarded by many as the godfather of punk, will talk about the subject of free music in a capitalist society on 13 October.
The lecture will be aired live on BBC 6 Music, the digital radio station on which Pop hosts a weekly show, and later on BBC Four.
The lecture is named in honour of late BBC Radio 1 broadcaster John Peel, who died in 2004.
An annual event since 2011, the lecture allows prominent musicians to discuss the state of music and the music industry. It has previously been delivered by Charlotte Church, Billy Bragg and Pete Townshend.
Peel was the first person to play Iggy Pop's band The Stooges on British radio with the track Little Doll from their debut album in August 1969.
Pop said Peel had "done a lot to give others a voice, and that's the most important gift you can give."
"Here was a person with strong opinions and enthusiasms who wasn't defined by any system, because of that his show became an exciting location, kind of like a shop that's a good hang," he said. "So it was a social as well as a musical phenomenon."
The singer added: "I've never given a lecture in my life, but on the day I'm going to attempt a discussion on the subject of free music in a capitalist society. This is a struggle which never ends."
Iggy Pop and The Stooges influenced generations of musicians with riotous live performances and raw rock 'n' roll classics like Search And Destroy, I Wanna Be Your Dog and Lust For Life.
BBC 6 Music and Radio 2 controller Bob Shennan described the star as "an iconic and hugely influential figure".
"Iggy's weekly show on 6 Music is always a fascinating trip through his eclectic musical mind, so I know Iggy will give a topical and thought-provoking speech which 6 Music listeners and BBC Four viewers will enjoy."
The talk will take place during the Radio Academy's Radio Festival at The Lowry in Salford.