David Byrne tells Imelda Marcos story as disco musical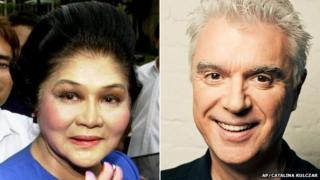 David Byrne has turned the story of former Philippines first lady Imelda Marcos into a musical - and he wants audiences to come ready to dance.
"I tell my friends it's a disco musical," says the former Talking Heads front man. "Although that's not 100% accurate, it tells them that it's not an ordinary theatre piece."
Byrne is in London for the opening of Here Lies Love, which follows the rise and fall of Imelda Marcos, the former Philippines first lady whose name became synonymous with wealth, greed and excess.
The musical, which has already run in New York, sees the National's new Dorfman theatre (formerly the Cottesloe) turned into a nightclub.
"Dancing is encouraged!" according to the official blurb. Audiences with standing tickets will be part of the action. Comfortable shoes and clothing are recommended.
"The ones on the floor are on their feet the whole time," explains Byrne. "But they don't have to dance the whole time."
During her husband's 20 years as Philippine president, Imelda Marcos amassed a huge collection of art, jewellery, property - and at least 1,000 pairs of shoes.
When the president was ousted in a "people power" revolution in 1986, the Marcos's wealth was estimated at about $10bn (£6.2bn).
"She was someone I knew about," says Byrne. "I was old enough to know about her as a personality.
"I knew that she was given to pithy, sometimes outrageous statements and behaviour - sometimes amusing, sometimes horrific.
"That alone wasn't enough. Then I read that she had a disco ball installed in her New York town house.
"She loved going to discos at that time. She even had the roof of the palace in Manila turned into a disco of sorts.
"I thought 'wow!', she surrounds herself with music - a particular genre of music I feel comfortable with. I wondered if there was a story there that could be told in that musical language."
Byrne researched the idea for a year. The result was a 2010 concept album of the same name, which he co-wrote with Fatboy Slim, aka Norman Cook.
"Why her rather than some other world figure? Why not Henry Kissinger? Well, he doesn't come with music. The great statements that he makes are deeply political, and for her it's all very personal."
The musical gets its title from an Imelda Marcos quote, and Byrne estimates that some 80% of its lyrics are genuine quotes - with the odd word changed to make a rhyme.
"There's one song called God Draws Straight which is about the people power revolution that toppled the Marcos leadership.
"Every word of the song is quotation from someone who was there during those demonstrations."
Actress Natalie Mendoza, who plays Imelda, says the former first lady was a "larger than life character", which presented a challenge in bringing her to life on stage.
"It's important for me not to become a caricature, but I give myself permission to play things a little bit larger than I normally would. She's almost cartoon-like when you see her in interviews.
"Playing Imelda is really understanding the fragility of human nature. Her journey is such an extreme one."
Alex Timbers, the show's director, compares Marcos to a character out of Greek drama.
"She starts as this remarkable figure who is seduced by the politics of power and does these extraordinarily terrible things and, in our show, is never able to fully confront the aftermath of those actions."
Byrne adds: "The audience puts themselves in the place of the Philippine people during that era. They feel themselves seduced by the glamour and good works of the Marcos presidency.
"And then - almost as if they were lovers - they feel betrayed."
Byrne is the latest in a seriess of pop and rock musicians to make the transition to stage musicals.
Tori Amos premiered her fairytale musical The Light Princess at the National Theatre a year ago, while Mendoza appeared in the Broadway Spider-Man show that featured music by U2's Bono and The Edge.
"A pop show can have an arc to it," says Byrne, whose Talking Heads concert film Stop Making Sense in 1984 had what he describes as "a psychological narrative".
"Taking the whole leap into a real narrative was a real learning curve for me."
Byrne has never met Imelda Marcos, but would he want to? He pauses for a moment. "I don't think I would learn anything," he says, before admitting: "It would be an experience.
"I've heard she has an aura, she's incredibly charming and you're kind of mesmerised."
Here Lies Love runs at the National Theatre in London until 8 January.