AC/DC: Malcolm Young will not return to the band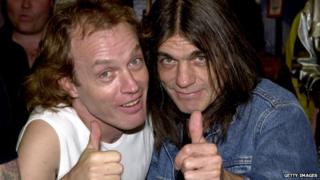 Rock band AC/DC have confirmed that founding member Malcolm Young will not return to the band, after taking a break due to illness.
The band said "due to the nature of Malcolm's condition" their new album Rock or Bust would be the first in AC/DC's 41-year history not to feature Young on the recordings.
A message on their website revealed the album would be released on 2 December.
AC/DC also announced they will embark on a Rock or Bust world tour in 2015.
Stevie Young, the nephew of founding members Malcolm and Angus Young, will accompany the band on tour after playing rhythm guitar on the album.
"Earlier this year AC/DC released a statement explaining that due to illness, Malcolm would be taking a break from the band," said the Australian rockers on Wednesday.
"Unfortunately, due to the nature of Malcolm's condition, he will not be returning to the band."
The album will feature 11 new tracks recorded at Warehouse Studio in Vancouver this spring, produced by Brendan O'Brien.
Split rumours
AC/DC, who formed in 1973, are one of the highest-grossing rock acts of all time, selling more than 200 million albums.
In April this year, they were forced to deny rumours they were splitting up, putting out a statement saying: "The band will continue to make music."
At the time they also confirmed Glasgow-born Malcolm Young would be taking a break after "forty years of life dedicated to AC/DC".
They did not reveal details of his illness, but said: "Malcolm would like to thank the group's diehard legions of fans worldwide for their never-ending love and support."
AC/DC's biggest-selling record has been 1980's Back In Black - the first with singer Brian Johnson following the death of former lead singer Bon Scott from alcohol poisoning.