Jonathan King to appear in BBC Genesis documentary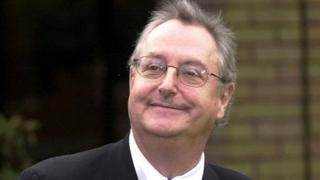 Former music mogul Jonathan King, who was convicted of child sex offences in 2001, is to appear in a BBC documentary about rock band Genesis.
King, who was released from prison in 2005, discovered the band and helped steer them to worldwide fame.
King's appearance in a 2011 re-run of Top of the Tops was edited out, prompting him to complain to the BBC.
The BBC said his inclusion in the film reflected the "significant role" he played in the history of Genesis.
The documentary, Genesis Together and Apart, explores the history of the band, including their formative years at Charterhouse School in the 1960s.
King, now 69, tells the story of how he went to the school, which he had also attended, and was handed a "grubby cassette tape" containing their music.
"I got in touch with them and said, 'I really like the sound of you, I'd like to produce you' and they said, 'Yes please'.
"I gave them the name Genesis because, for me, that was the start of my production career," he tells the programme, which will be shown on BBC Two on 4 October.
It brings together all members of the band - Tony Banks, Phil Collins, Peter Gabriel, Steve Hackett and Mike Rutherford - for the first time since 1975.
The act went on to have worldwide musical success.
King was sentenced to seven years in jail in 2001 for four indecent assaults and two serious sexual offences on teenage boys dating back to the 1980s. He was released after four years.
He has consistently protested his innocence and stated his case in a controversial interview on Channel 4 a year after he was convicted.
The former impresario, who was also a pop star in his own right, protested to the BBC in 2011 when his 1976 Top of the Pops appearance was edited out.
He called it a "Stalinist revision of history" and was assured by the then BBC director general Mark Thompson that this would not happen again.
King was involved in a number of other BBC TV productions in the 1980s and '90s, including Entertainment USA and The Great British Song Contest, which was a bid to find a successful UK entry for Eurovision.