Arts Council chief Alan Davey to run BBC Radio 3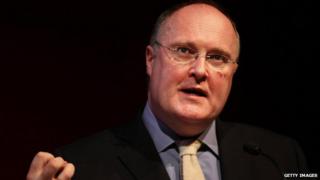 Arts Council England's chief executive Alan Davey has been named the new controller of BBC Radio 3.
Mr Davey will move to the station in January after seven years at the helm of the arts funding body.
He described Radio 3 as "one of our most important cultural institutions and a beacon of excellence".
He takes over from Roger Wright, who has left Radio 3 after 15 years to become chief executive of Aldeburgh Music.
Mr Davey said: "It is an honour to be asked to lead this wonderful institution and to renew it for the digital age, helping new audiences to encounter the wonderful things serious music and culture can bring.
"I stumbled upon Radio 3 when I was a teenager, and it opened a door to an endlessly fascinating world of sound and thought that has nourished me ever since.
"I want everyone to have that chance and am proud to be able to make sure they will."
'Formidable track record'
Radio 3 has around 1.9 million listeners per week in the UK, but was recently overtaken in the ratings by digital radio station BBC 6 Music for the first time.
Mr Davey's predecessor was also director of the BBC Proms, but the jobs have now been split and another appointment will be made to run the Proms.
Mr Davey will oversee the BBC's six performing groups, which include the BBC Symphony Orchestra, the BBC Philharmonic and the BBC Singers.
BBC director general Tony Hall said Radio 3 was "a true icon of classical music and cultural broadcasting in the UK".
He continued: "Alan Davey has a formidable track record in the arts and a depth of understanding only matched by his passion for classical music.
"His appointment marks a new chapter in the Radio 3 story - one that will extend and grow its rich history of excellence, innovation, and distinctiveness."
Before joining Arts Council England, Mr Davey worked for the Department for Culture, Media and Sport and Department of Health.