Turner Prize show dominated by film art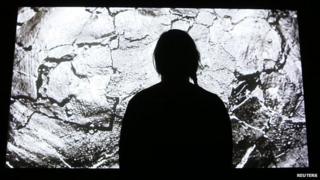 Visitors to this year's Turner Prize 2014 exhibition will find themselves spending much of their time watching films in semi-darkness.
The show, unveiled at Tate Britain on Monday, features several film works - and slide shows projected onto walls.
This year's artist nominees are Duncan Campbell, Ciara Phillips, James Richards and Tris Vonna-Michell.
Between them, they employ audio, video, craft and design - but there is no use of traditional painting or sculpture.
Richards' film Rosebud 2013 - the first work that greets visitors to the show - features erotic images from a book found in a Tokyo library which have had the explicit detail scratched out by censors using sandpaper.
These are juxtaposed with images of sensory tenderness such a flower brushing on bare skin.
The winner, who will receive £25,000, will be announced on Channel 4 by British actor Chiwetel Ejiofor on 1 December.
'Mobility of art'
The artists - three of whom are alumni of Glasgow School of Art - were all nominated for work that has been seen in London, Lyon, Venice and Brussels.
Tate Britain director Penelope Curtis, who chairs the jury, said: "This reflects the mobility of art today, while the prominence of film, performance, and participation reveals an interest in work that adapts according to changing surroundings."
Lizzie Carey-Thomas, the show's co-curator, has described the shortlist as being "more accessible" than in past years.
"It is a credit to the judges that they have not gone for media-baiting, provocative-for-the-sake-of-it work, and instead chosen the seemingly subtle and difficult," said Zoe Pilger in her review for The Independent. "But difficulty must have a point. Too much of this exhibition is underwhelming."
The Telegraph's art critic Richard Dorment was more engrossed.
"When I read the press release describing what the four artists in it do, I thought I'd cross the street not to see their work. But art if it's any good is always compelling and sure enough, when I got to Tate Britain and hunkered down to focus on each in turn, most of it captured and held my attention, whether I wanted it to or not."
Now in its 30th anniversary year, the often-controversial Turner Prize is awarded to a British artist under 50.
The shortlisted artists - who were announced in May - show work in an exhibition ahead of the winner being chosen.
Another work on show by Richards, The Screens 2013, features slides from a manual on how to create gory theatrical make-up effects.
Vonna-Michell's film Finding Chopin: Dans l'Essex (2014), features scenes of Essex salt marshes coastline and is inspired by a French sound poet who spent part of his life there.
Another work , Postcript IV (Berlin) 2014, is a slide installation based on a story about the artist's mother's childhood in post-war Germany.
Duncan Campbell's film It for Others lasts almost an hour and reflects on African art and colonialism as well as featuring a silent choreography inspired by equations from Karl Marx's Capital Volume 1. A shorter film, the 10-minute Sigmar 2008, is also on show.
The only non-film maker is Ciara Phillips who presents a new installation, Things Shared 2014. Her colourful handmade screenprints fill the walls, forming a striking contrast to the rest of the exhibition.
Outside Tate Britain, protesters from the Stuckists art group handed out leaflets which said there would be no demonstration against the Turner Prize - unlike in previous years - because the prize had "sunk to a predictable and pathetic level of elitist repetition that is not worth bothering about".
The Turner Prize 2014 exhibition takes place at Tate Britain from 30 September to 4 January 2015. The winner will be announced on 1 December.