Lewis to run for 'one more' series, says Kevin Whately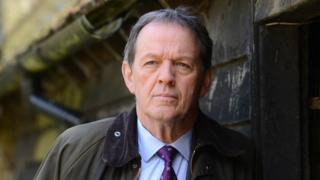 Kevin Whately, star of detective series Lewis, has said there will be just one more series of the long-running drama.
Speaking to the Radio Times, the actor said: "Everything has a life span and I think it's gone on long enough."
The 63-year-old added that he is now older than actor John Thaw when he died in 2002.
Lewis started out as the sidekick to Thaw's Inspector Morse, which clocked up seven series and five specials between 1987 and 2000.
"There were 33 Inspector Morse stories and we've now done 30 Lewis.
"I suppose it's a sentimental thing but I wouldn't want to do more Lewis than we did Morse because I do still think of it as an offshoot," added Whately of the ITV serial.
"It's a long time to play one character, but sometimes it only feels like yesterday that we started."
Whately, who has appeared in a host of other TV shows including Auf Wiedersehen, Pet and Peak Practice, said that he wanted Lewis to have a young female Muslim sidekick, but the programme's producers "pooh-poohed the idea".
His crime-solving partner in the drama is played by actor Laurence Fox.
Fox said of Lewis: "I don't really understand why people like it. I mean, I'm really grateful that they do, but I've never quite worked it out."
The drama first came to screens in 2006, while another Morse spin-off, Endeavour, which looks at the early career of the detective, started in 2012.
Lewis came to an apparent end last year with the retirement of its two lead characters.
But they were drafted back into the force, spawning the new series which begins on 10 October.