Tracy Morgan 'failed to wear seatbelt' in fatal road crash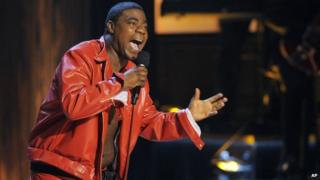 30 Rock comic Tracy Morgan was not wearing a seatbelt in a car accident that left him badly injured, according to papers filed in a US court.
Walmart - owners of the truck that crashed into the star's limousine bus - contend his injuries and the death of a passenger were partly their own fault.
Truck driver Kevin Roper has denied death by driving, while authorities found he was speeding.
But Morgan said he "could not believe" he was being held responsible.
In a statement, he said: "I can't believe Walmart is blaming me for an accident that they caused. My friends and I were doing nothing wrong."
Morgan broke his nose, ribs and legs in the crash, while his friend and fellow comedian James McNair was killed. The party were travelling back from one of Morgan's shows in Delaware.
His statement added that he was "fighting hard every day to get back" and thanked his fans "for sticking with him during this difficult time".
The comedian's lawyers are seeking compensation from Walmart.
Responding to the retail giant's latest claims, they called the contentions "surprising and appalling".
Six-vehicle collision
Lawyer Benedict Morelli said: "It's not what they said they were going to do initially, which was take full responsibility. I'm very upset, not for myself but for the families I represent.''
Authorities previously said that Mr Roper had not slept for 24 hours prior to the six-vehicle collision, which happened on a New Jersey highway on 7 June.
The legal action filed by Morgan and the other passengers in his car and their families asserts that Walmart should have been aware that their driver had been on an "unreasonable" commute.
Their claim also states that Mr Roper fell asleep at the wheel.
A representative for the retail giant has said they will continue to work with Morgan and other plaintiffs "to resolve this matter".
They have previously asserted that they believe Mr Roper was in compliance with federal safety regulations.
Morgan required several weeks' rehabilitation treatment before making a recovery.
He starred alongside Tina Fey and Alec Baldwin in the comedy series 30 Rock and was also a regular on Saturday Night Live.